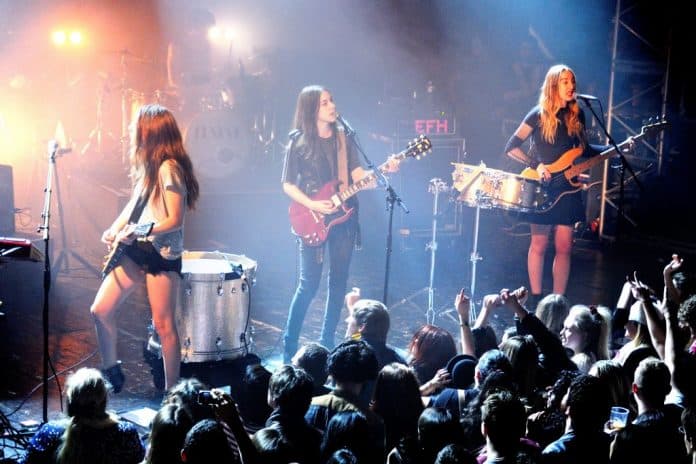 American pop-rock band HAIM were in attendance at last night's Brit Awards in London's O2 Arena. They spoke out about sexism in The Music Industry, how to fight it and also discussed their touring plans.
On the red carpet of the Awards event, the band spoke to NME, and revealed the following about their upcoming tour:
'We're going to give you what you want.' Alana Haim said. 'We're really excited about this tour because we wanted to make every show extra special. No two shows are going to be the same. It's going to be a huge party. We named it 'Sister Sister Sister' Tour because we're all in this together, and we're going to rage. Come rage with us.'
The sisters said the a lot more needs to be done in the music industry to make women feel welcome. 'The stories are endless'. Alana said. 'We used to go into venues, we would show up for soundcheck, the sound guy would be on his phone and we'd go 'oh, can I hear a little more of my voice?' Then you'd get an eye roll.'
Danielle continued: 'The worst is actually after when someone from the venue goes 'oh, you guys were actually OK', or 'oh, you guys actually play instruments." Danielle added: 'We just need equal opportunities to get these jobs. Period. It's just not fair.'
Bassist of the band, Este has made quite a stir on Twitter after having the absolute craic in the background of Jack Whitehall's interview with Liam Payne and Cheryl (Cole/Tweedy/Vernandi- we give up) at the awards last night. Check out her antics below!
Este Haim is the greatest #BRITs2018 pic.twitter.com/vo2lzojQ1U

— Dan Alani (@danalani) February 21, 2018
Tour Dates
The band will be visiting both the UK and Ireland this June, check out the dates below:
10 June, Glasgow, O2 Academy
11 June, Manchester, O2 Apollo
12 June, Dublin, Olympia
15 June, London, Alexandra Palace