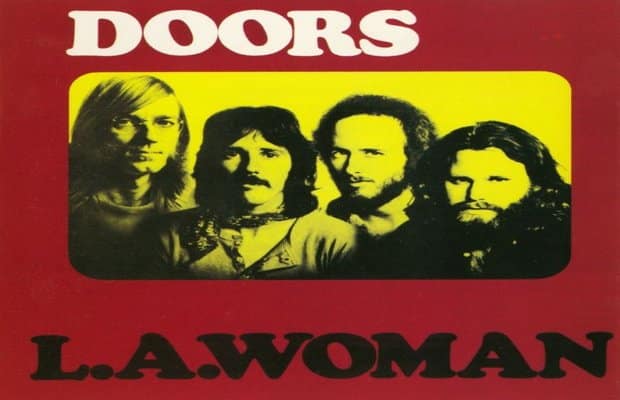 L.A. Woman is the sixth studio album by The Doors, and the last recorded with lead singer Jim Morrison, who died in July 1971. Its style is arguably the most blues rock-oriented of the band's catalog.
Following the departure of their record producer Paul A. Rothchild around November 1970, the band fell in to a state of depression and Jim Morrison was obviously bored with Sunset Sound, the studio in which their first two albums were recorded. Bruce Botnick, their engineer, suggested they record at the Doors' workshop. He and the band began production on the album at The Doors Workshop in Los Angeles. Most of the tracks were recorded live, except for a few overdubbed keyboard parts by Ray Manzarek. Morrison recorded his singing in the studio's bathroom to get a fuller sound. Elvis Presley's bass player Jerry Scheff was brought in to play bass on the album, and rhythm guitarist Marc Benno was brought in so that Robbie Krieger could focus on playing lead guitar during live takes.
Botnick later produced and mixed a new 5.1 Surround version of the album, which was released on DVD-Audio on December 19, 2000. It was produced from the original eight-track analog 1″ master tapes.
Early LP editions of the album were uniquely packaged: the album's cover was die-cut to remove a near-rectangular piece of it, with a sheet of transparent plastic on which the cover photo of the Doors was printed, glued in place in its stead. Later pressings featured a conventional cover without the die-cut hole and plastic window, and with the group photo printed on the cover itself.
The Doors embarked on a tour before completing the album, although it would only comprise two dates. The first was held in Dallas, Texas on December 11, 1970 and reportedly went well. The second performance took place at The Warehouse in New Orleans, Louisiana, on December 12, where Morrison apparently had a breakdown on stage. Midway through the set he slammed the microphone numerous times into the stage floor until the platform beneath was destroyed, then sat down and refused to perform for the remainder of the show. John Densmore recalls the incident in his biography Riders on the Storm, where after the show he met with Manzarek and Krieger; they decided to end their live act, citing their mutual agreement that Morrison was ready to retire from performing. By the time the album was released in April 1971, Morrison had moved to Paris, France, where he died three months later, on July 3, 1971.
In 2003, L.A. Woman was ranked #362 on Rolling Stone magazine's list of the 500 greatest albums of all time.
Track listing
All songs written by Jim Morrison, Robby Krieger, Ray Manzarek and John Densmore, except where noted.
Side one
"The Changeling" – 4:21
"Love Her Madly" (Krieger) – 3:20

The 40th Anniversary Mix includes a longer fade-out making it 3:38

"Been Down So Long" – 4:41
"Cars Hiss by My Window" – 4:12

The 40th Anniversary Mix includes an additional verse making it 4:58

"L.A. Woman" – 7:49

The 40th Anniversary Mix includes the guitar intro "My Country, 'Tis of Thee" making it 7:59
Side two
"L'America" – 4:37
"Hyacinth House" – 3:11
"Crawling King Snake" (John Lee Hooker) – 5:00
"The WASP (Texas Radio and the Big Beat)" – 4:16
"Riders on the Storm" – 7:09

The 40th Anniversary Mix has a shorter fadeout during the storm