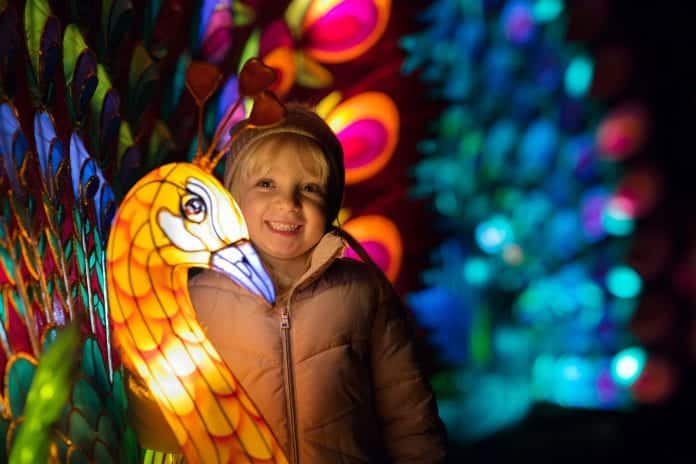 It's time to see Dublin Zoo in a whole new light thanks to the new installation 'Wild Lights' this festive period!
The brand new attraction will feature illuminated animal sculptures and giant colourful lanterns, all inspired by wildlife. You'll get to experience a magical, unforgettable experience with your family and friends – under the cover of darkness. The Wild Lights experience will only run between the hours of 5-9pm in the evening, allowing the illuminated animals and lanterns to have the perfect backdrop.
Upon entering 'Wild Lights', you will follow an enchanted trail, beautifully lit up by the giant silk lanterns. Following your trail, you'll be entertained by Chinese performers and crafts, while enjoying warm drinks and Chinese foods.
The illuminated animals will include a pride of lions, orangutans, tigers, giraffes, monkeys. There's also a 30-meter long Chinese dragon and 16-metre high porcelain elephant tower.
Speaking about the Wild Lights event, Leo Oosterweghel, Director of Dublin Zoo, said:
"I am very excited to announce that Dublin Zoo will host Wild Lights for the first time ever! This is going to be a really special and unique event for visitors to enjoy this festive season. At Dublin Zoo, we constantly strive to offer new and memorable experiences for our visitors. Wild Lights is the first of its kind event in Ireland!"
The amazing new attraction will officially open its doors to the public tomorrow, Friday the 3rd of November until Sunday the 7th of January 2018.
Tickets
Tickets are available only on the DublinZoo website!
Admission to Wild Lights will be €20 for adults and €15 euro for children. Special rates of €18 euro for adults and €12 euro for children are available for annual pass holders. Children under the age of three go free.
Photos via ©Patrick Bolger & Dublin Zoo