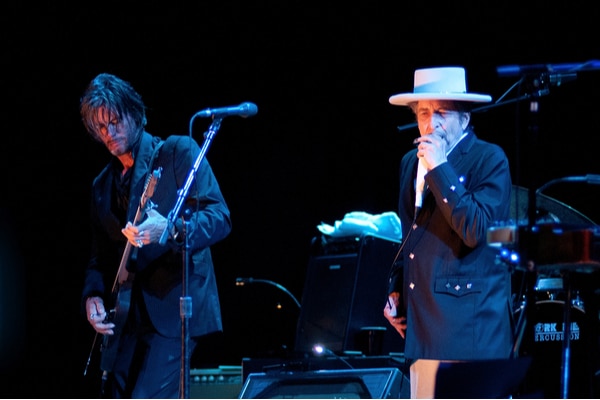 Just as bands are coming back to playing live in front of huge crowds of people, Bob Dylan gets into online streaming. The octogenarian Nobel Prize recipient will host his first-ever livestream, dubbed Shadow Kingdom, on July 18th at 5 p.m. ET (10pm in Ireland/UK).
Billed as the singer-songwriter's first broadcast in 30 years, the show will feature Dylan "in an intimate setting as he presents renditions of songs from his extensive body of work created especially for this event." Tickets for the Bob Dylan Shadow Kingdom livestream are on sale now through Veeps. A repeat of the show will be available via on-demand replay until the 21st of July.
Dylan's last performance came on December 8th, 2019, while at his gig in The Anthem in Washington, D.C.. Although his latest creation, Rough And Rowdy Ways hit the shelves in the summer of 2020, the folk-rock artist had no opportunity to tour.
With Dylan being a perfectionist, it seems hard to imagine his songs played any better. However, the artist is known for his tendency to reimagine his classic songs during performances and appease hard-core fans with alternate versions.
Speaking last year to The New York Times, Dylan said "there's no way you can change the nature of a song once you've invented it. You can set different guitar or piano patterns upon the structural lines and go from there, but that's not improvisation. Improvisation leaves you open to good or bad performances and the idea is to stay consistent. You basically play the same thing time after time in the most perfect way you can."
Dylan, who celebrated his 80th last month, has not been in the limelight as such for much of the pandemic. However, the musician has been recently spotted in Los Angeles, and he is said to be in good health.
"Your mind and body go hand in hand," Dylan explained philosophically. "There has to be some kind of agreement. I like to think of the mind as spirit and the body as substance. How you integrate those two things, I have no idea. I just try to go on a straight line and stay on it, stay on the level."