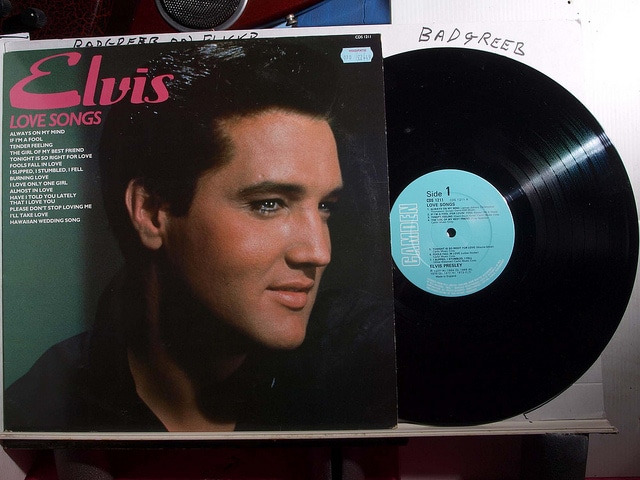 Elvis Presley fans rejoice, some very special memorabilia is going to be auctioned off next year, including a rare recording, a crown and a few Elvis Christmas cards.
The King of Rock and Roll's earliest recorded material is going to be sold off to the highest bidder, and Elvis fans are going to be scrambling to get their hands on these unique items.
The auction takes place in January 2015 and one of the most prized objects up for sale is described as 'the most important 78 m record ever offered".
The item in question is, 'Lot 32: Elvis Presley's First Recording Acetate'. Recorded in 1953, at the Sam Phillips' Memphis Recording Service, Elvis walked in and laid down two tracks 'My Happiness' (Side A) and 'That's When Your Heartaches Begin' (Side B).
Elvis was asked by Marion Keisker, assistant to Sam Philips, who he sounded like? The young man simply replied: "I don't sound like nobody."
The version of 'My Happiness' is the only known copy of the song. 'The King' paid the hefty price of $4 to make the record as a birthday present for his mother Gladys.
To get you hands on this very rare vinyl, it's going to cost you an estimated €60,000 – €80,000.
There are several other interesting items up for sale including a collection of Christmas cards €800, a 1975 tour jacket €3000, his army first aid kit €4000, a watch €2,500, a signature pair of his prescription sunglasses €12,000, the singer's first driving licence €16,000, an Elvis crown €1,200, and a sheriff's badge used by the King in the sixties.
The auction will take place at Memphis' Graceland estate on January 8th 2015. Check out all the items here.