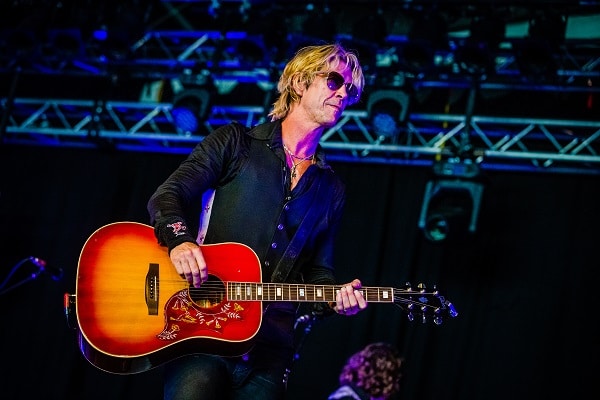 Duff McKagan has claimed that the early Punk music scene played a huge role in the subsequent success of such bands like Metallica and his very own Guns N'Roses.
The bassist made these comments during an interview at the Danny Boyle directed 'Pistol' premiere. Based on former Sex Pistols bassist Steve Jones' memoir, 'Pistol' is a six episode series, telling the story of notorious 1970s British punk band.
It will also be exclusively available to Hulu in the US, as well as Disney+ in Ireland, New Zealand, Austrailia, Canada and Singapore.
According to McKagan, it was the work of the Pistols that paved the way for the likes of Guns N'Roses, Metallica and Nirvana, calling their impact a "truly special thing". 
"The punk scene back then and what THE Pistols helped generate was such a truly special thing", he claimed.
"There wouldn't be a Guns N'Roses, there wouldn't be Metallica, Nine Inch Nails, Nirvana… You can just keep going on. Foo Fighters… There wouldn't have been any of that without [the early punk scene]". 
"informed rock and roll"
Duff McKagan revealed that the Sex Pistols played a huge part in his development as a musician, heaping praise on Steve Jones and Paul Cook in particular.
"I didn't learn to play their music at all, like 'Bodies' or anything. Later on I learned the songs", he said.
"But it was just kind of the way that Jonesy attacks the guitar. And I just picked up a guitar and started learning all that. And I then I figured out Johnny Thunders before that, and that's where he was taking it from. It was like music school. And then Paul Cook is kind of the beginning of modern rock and roll drumming; it all goes back to Paul. I'm a bass player, I'm a rhythm section guy, so Paul is the engine that informed rock and roll, from '77 on". 
"Learning their songs wasn't really the important thing; it was just listening and taking it all in and then forming your own band and going". 
McKagan talks "individuals and individuality"
Duff McKagan also shed further light on life as a punk rocker in the 1970s.
"I was in the punk scene coming up. It was a time when it was all about individuals and individuality and being a freak or whatever, an outsider, and there was a little scene for you", he explained.
"There was a little gig down the street somewhere or downtown that you could go to and it was all ages. Then some international bands started to come through — THE Clash came through in '79, and there was like a hundred people there. 999 came and THE JAM came and The Specials came and The Police came. And then U.S. bands started… Of course we saw the RAMONES — everybody saw the Ramones. You can't say The Sex Pistols, really, without saying the Ramones. It's the first two; it's the genesis of the whole thing". 
2022 has seen Duff McKagan perform several live covers, collaborating with the likes of Eddie Vedder, and his bandmate Slash.