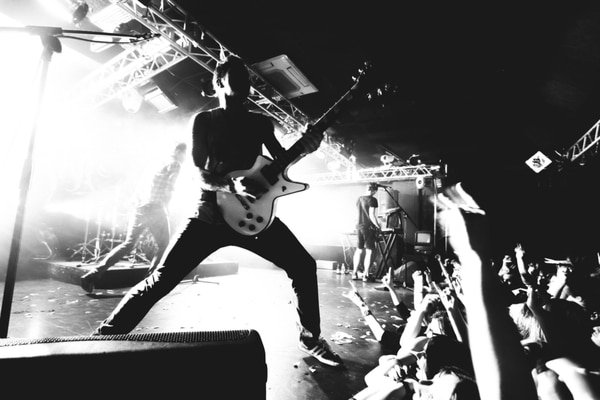 Some of rock's finest bands have made it in to Billboard's US Money Makers list of The Top Paid Musicians of 2020. Amid an unprecedented year, one which saw almost a complete halt to the live music industry, ten rock acts are reported to have made some decent earnings.
Following a year and a half of almost complete boredom, it is easy to understand the low earnings recorded from touring in 2020. According to Billboard Boxscore data, touring income made just 20% of artists' collective 2020 take-home pay, reaching highs of 75% to 80% in precious years.
Earnings made from touring fell outrageously from $779 million in 2019 to a lowly $79 million, as sales, streaming and publishing collectively grew 56% from $197 million in 2019 to $308 million. As a result, this has seen streaming and physical sales rearrange the usual high-listers, normally reliant on touring revenue. With that in mind, ten rock acts still made it into Billboards 40 Money Makers of 2020.
The Eagles: Position – 4th – $16.3M
Last year's rank: —
Streaming: $2.7M
Sales: $970K
Publishing: $1.2M
Touring: $11.4M
Jamming to a catalogue which spans across 5 decades, Eagles made a whopping $11.4 million from 10 shows in 2020. Thanks to 744 million web radio plays, the Life In The Fast Lane rockers were the 5th most-played act of 2020. Meanwhile, almost 30% of the band's earnings came from its recorded masters, generating almost $4.9 million. The success of 2020 has seen then band soar higher than any other rock act on the list.
Queen: Position – 7th – $13.2M 
Last year's rank: 5th
Streaming: $5.5M
Sales: $5.3M
Publishing: $2.4M
Touring: $0
Possessing their own masters, the Bohemian Rhapsody rockers made $5.3 million in sales royalties, thanks to the rerelease of its limited-edition, coloured vinyl. Consisting of the band's 15 studio albums, the Studio Collection box set cost $500-plus and helped them rank second in sales royalties. Selling 517,000 physical copies and making earnings of $2.4 million in publishing royalties, the band also generated 1.2 billion on-demand audio streams in 2020. Queen even topped the 2020 Global Money Makers ranking.
The Beatles: Position – 8th – $12.9M
Last year's rank: —
Streaming: $5.1M
Sales: $5.2M
Publishing: $2.6M
Touring: $0
Following an impressive 2020, the Liverpool band make their debut on the Money Makers list, thanks to their ability to sell 671,000 copies of its albums. 78% of which were actually vinyl reissues, which cost more than CDs, earning higher royalties (50%). Their streaming success is also a big success with over 1.8 billion streams, generating earnings of around $5.1 million.
AC/DC: Position – 13th – $10.1M
Last year's rank: —
Streaming: $4.3M
Sales: $4M
Publishing: $1.8M
Touring: $0
The Australian rockers also own their own catalogue, generating them a higher royalty rate. The Sin City rockers released their 17th studio album, Power Up in 2020, which helped contribute to 427,000 physical sales of records from their catalogue. The hard rockers also made earnings of $4.3 million from amassing almost 1.5 billion overall plays on streaming platforms.
Metallica: Position – 18th– $9M
Last year's rank: 30th
Streaming: $3.9M
Sales: $3.7M
Publishing: $1.4M
Touring: $0
Like AC/DC and Queen, Metallica owns its masters, which sees the band's royalties calculated at a rate of 78%. The band's August 2020 release of the live set S&M2 and digitally remastered versions of its 10-album catalogue helped boost it to 10th spot in physical sales, with 334,000 copies "scanned" in 2020, with a Disney version of Nothing Else Matters also released. The Seek and Destroy rockers also racked up 1.3 billion in combined streams, creating earnings of $3.9 million in royalties.
Further Notable Earnings in 2020
Pink Floyd: Position – 20th – $8.8M
Last year's rank: —
Streaming: $3.2M
Sales: $4.3M
Publishing: $1.3M
Touring: $0
Fleetwood Mac: Position – 29th – $6.6M
Last year's rank: 38th
Streaming: $3.2M
Sales: $1.8M
Publishing: $1.6M
Touring: $0
KISS: Position – 33rd – $6M
Last year's rank: 8th
Streaming: $431K
Sales: $348K
Publishing: $194.5K
Touring: $5M
The Rolling Stones: Position – 34th – $5.96M
Last year's rank: 1st
Streaming: $2.97M
Sales: $1.8M
Publishing: $1.17M
Touring: $0
Aerosmith: Position – 40th – $5.35M
Last year's rank: No. 26
Streaming: $1.33M
Sales: $564K
Publishing: $840K
Touring: $2.7M