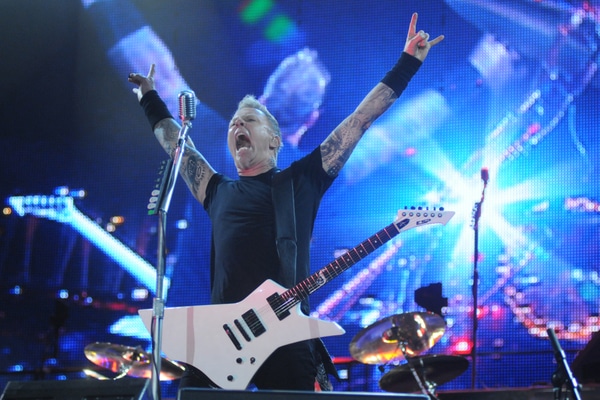 A new version of Metallica's "Nothing Else Matters" is included twice in the Disney film "Jungle Cruise".
This is also the second new cover of "Nothing Else Matters" to be released. Back in June, Miley Cyrus released her cover of the track. More on that here.
On this latest Disney version, the band released this statement.
"It was an honour to work with renowned, legendary composer James Newton Howard as we reimagined the song by performing his arrangement and creating a rendition we like to think is fit for an excursion through the Amazon".
They also said, "The film stars Dwayne Johnson and Emily Blunt who take the fan favourite ride and transform it to a theatrical adventure. Not only are we big fans of Disney, but we couldn't pass up the opportunity to work with Howard, an eight-time Oscar nominee who has been recognised for films such as The Fugitive, Michael Clayton, and The Village". 
"Our collaboration with Howard will be featured on the film's soundtrack, available to stream or download on your favourite music platforms". 
Metallica also posted this on their Twitter account.
Planning to watch @JungleCruise in theaters or on Disney+ Premier Access tomorrow? Keep an ear out for a totally new and different version of "Nothing Else Matters," appearing twice in the film! Check out this sneak peek. #JungleCruise pic.twitter.com/APbKEk7d1h

— Metallica (@Metallica) July 29, 2021
Check out the clip here.
"Generous, warm and embracing"
Lars Ulrich also confirmed that Metallica were working with composer James Newtown Howard on an orchestral version of "Nothing Else Matters" for the film.
Speaking to Collider, Ulrich also paid special mention to Disney production president Sean Bailey. Calling him "embracing", "generous" and a "lifelong Metallica fan".
"It really goes back to [Disney production president] Sean Bailey, who is a lifelong rock fan, and is just all-around one of the greatest, most friendly, generous, warm, and embracing people you'll find in the music business", Ulrich said.
"I think he's always been a Metallica fan, and we've gotten to know each other well. My wife and I are big Disney fans, so there's a great friendship there, and he's always looked for the right match where there was a way that Metallica could contribute to some project of theirs". 
Metallica reimagined track "An unusual morph"
Speaking about the new track, Ulrich called it an "unusual morph" and said that the new arrangements were Howard's.
"We wrote the song, but he took the song and rearranged it to fit something specific in the film — and obviously, I'm not going to give any of that away — but we then kind of took on his version of it", he said.
"Nothing Else Matters" also features on Metallica's The Black Album. The band have been busy celebrating 30 years since its release, including a reissue. 
The band have also joined forces with Vans to launch a new pair of shoes to celebrate the album. More on that report from Nova here.