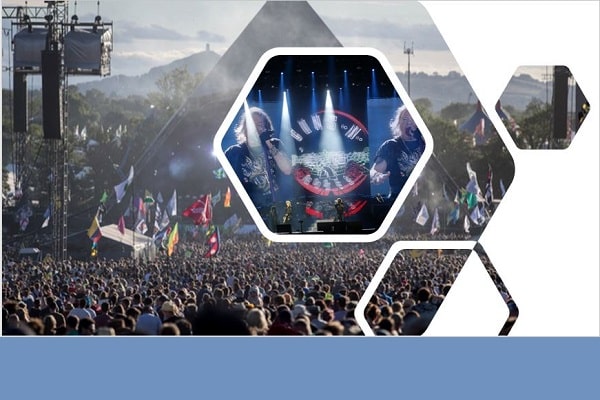 Glastonbury Festival organiser, Emily Eavis, thinks Guns N' Roses "need" to play the Worthy Farm-held event at some point.
The American hard hitters created rock history with their hugely successful Not In This Lifetime…/Guns N Roses 2020 Tour productions. Although racking up an interrupted 5-year run of 229 shows worldwide, the band is still yet to perform at one of the biggest festivals in Glastonbury. So, why not round it off to 230 with a monster show on Worthy Farm?..
The seeds to this dream may have been already sewn by none other than the Ms Glastonbury herself, Emily Eavis. In a recent interview with Metal Hammer's Eleanor Goodman, Eavis said Guns 'N' Roses "need to play at some point".
Eavis, organiser of Glastonbury with her father, Worthy Farm owner Michael Eavis, made the comment whilst on the topic of Metallica's 2014 headline appearance. Recalling the rocker's triumphant set, Eavis said the atmosphere was "electric, and they came on and slayed everyone". Emily believes Metallica paved the way for other hard rock/heavy metal artists to perform at the legendary Glastonbury festival. "They definitely helped inspire us to book more heavy rock acts, from Motorhead and ZZ Top, to the Earache Stage over in Shangri-La."
West-midlands grindcore quartet, Napalm Death, were -for Eavis – the heaviest band she has booked for Glastonbury. "We had Napalm Death in 2017 and it doesn't get much heavier than that! But I think Guns N' Roses need to play here at some point, don't they?"
Returning to Europe next year, Guns N' Roses are set to launch their tour on June 4th at Lisbon's Passeio Maritimo de Algés, Portugal. Also included in the huge run of gigs are two stadium shows in London, as well as gigs in Belfast, and Glasgow.
Glastonbury Festival returns to Worthy Farm next year for the first time in three years, and hopefully with the same list of acts. As previously implied by Michael Eavis, all "big names" that had been booked to perform in 2020 should join in 2022.
Ms Diana Ross has been announced to play at next year's event, following the announcement of Bad Guy singer, Billie Eilish, last month. The latter will take to the Pyramid Stage on the Friday night, subsequently making her the festival's youngest ever solo headliner. While California rockers, Queens of the Stone Age are so far only rumoured to play at next year's big Glastonbury comeback.