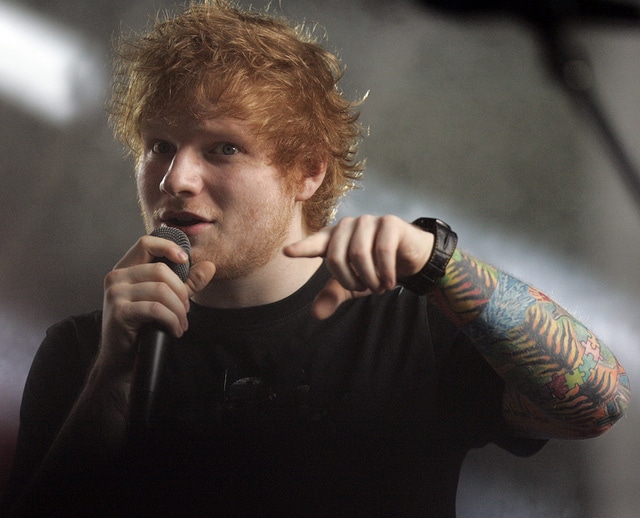 Singer-songwriter Ed Sheeran is trying his best to make peace with Noel Gallagher, he has offered him some tickets to his upcoming concert at Wembley Stadium.
Two weeks ago the one-way feud began, when Noel dished out some insults at the young singer.
The former Oasis member lamented the fact that Ed will be playing three shows at Wembley Stadium this summer.
The red headed musician sold out 80,000 tickets for his first concert, leading to two extra shows being added due to the phenomenal demand to see him.
Speaking with NME, Noel Gallagher wasn't pleased for the young singer and implied that it's a myth that Sheeran is any different to other pop acts in the charts at the moment.
Gallagher said: "I don't think I can live in a world where that's even possible. When you hear that kind of polished pop and then there's a ginger guy with a f**king guitar it seems subversive, but it's f**king not."
Ed Sheeran has kept his reply short and simple, he tweeted: "I can live in it, it's really enjoyable."
Now Ed is offering an olive branch to the mouthy Mancunian, he sent him a text inviting Noel to one of his concerts in July.
Speaking to the Daily Star, Sheeran said: "I read what he said, I texted him because I have his number and asked him if he'd like some tickets. He wrote back, 'You cheeky so and so. My daughter would love some'. He's always going to be the guy who's outspoken. I wasn't offended. I found it quite cool to be in his interview."
The young man says that insults keep his ego in check. "I get a lot of stick from press and people, but it's good to get stick. That's why Americans go off the rails. Ego-wise you are risen and risen and risen. Your ego grows. If you speak to anyone from Adele to Chris Martin, they would say they are grounded 'cos they get a hiding from the press."
Over the weekend Ed Sheeran performed at Whelans for VH1's 'Storytellers' series. Watch him perform 'Thinking Out Loud' below.