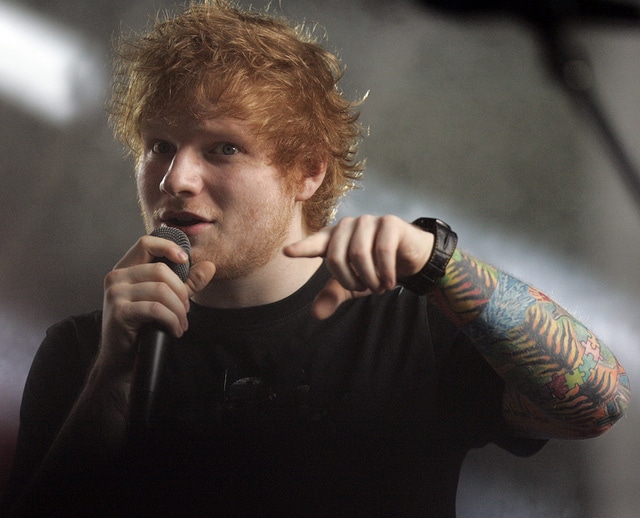 Happy-go-lucky singer-songwriter Ed Sheeran has responded to some insults dished out by Noel Gallagher.
Sheeran didn't take the harsh criticism too seriously and wisely didn't engage in a back and forth with a man that loves to run his mouth.
Earlier this week, the former Oasis member lamented the fact that Ed will be playing three shows at Wembley Stadium this summer.
The red headed musician sold out 80,000 tickets for his first concert, leading to two extra shows being added due to the phenomenal demand to see him.
Speaking with NME, Noel Gallagher wasn't pleased for the young singer and implied that it's a myth that Sheeran is any different to other pop acts in the charts at the moment.
Gallagher said: "I don't think I can live in a world where that's even possible. When you hear that kind of polished pop and then there's a ginger guy with a f**king guitar it seems subversive, but it's f**king not."
Ed Sheeran has kept his reply short and simple, he tweeted: "I can live in it, it's really enjoyable."
Elsewhere in the interview, the Mancunian continued insulting the current state of popular music.
"It's a strange time, and it seems like the whole thing is embedded for good now, for fucking ever. It's not all over, but it'll never go back to the way it was in the early '80s where indie bands are the alternative thing, the lower level."
"In the early '80s everyone at indie labels, even major labels, were trying to push this music to the fore because everything else was shit, and maybe it'll happen again, but I don't see it for the next decade."
Earlier this week Noel premiered his new music video with Johnny Marr, for the single 'Ballad Of The Mighty I'.
Noel Gallagher and the High Flying Birds play Dublin's 3Arena on March 4th.
Ed Sheeran plays Whelan's on January 24th, apply for tickets here.