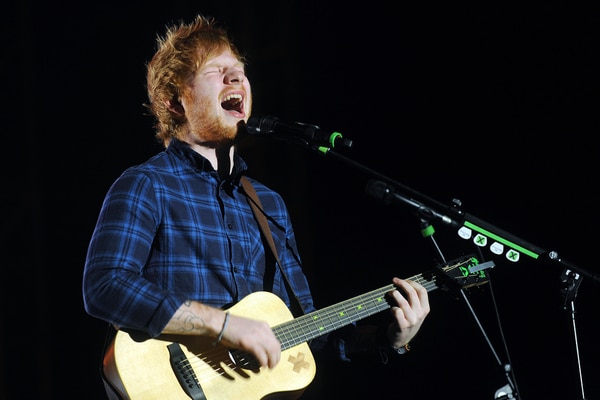 Singer/Songwriter Ed Sheeran has teased the idea of recording a Death Metal album at some point in the future.
When you think of Death Metal, the bespectacled pop star probably isn't the first musician you associate with the noisy genre. But in an interview with The Sun, Sheeran opened up about his fondness for Death Metal, citing noisemongers Cradle of Filth and Slipknot among his personal faves.
"I was really into Death Metal as a kid," the 30-year-old singer confessed. "I listened to Cradle of Filth and Slipknot and all that stuff. I'm not saying I could ever step into that world."
Known for his guitar skills, Sheeran claims he taught himself to play metal songs.
"I learnt all those riffs on guitar as a kid," he boasted. "That's something I've never thought about doing – but something I would not be opposed to creating."
Upon hearing of Sheeran's love for his band, Cradle of Filth frontman Dani Filth responded on Instagram.
"I'll believe it when I see it," Filth wrote of Sheeran's proposed musical switcheroo. "Fellow Suffolk lad could come good in the end. 'Dracula's Castle On The Hill' anyone?" he joked in reference to Sheeran's hit Castle on the Hill.
In contrast to Sheeran's clean cut image, Cradle of Filth's music is peppered with references to Satanism, Gothic literature and horror movies.
This isn't the first time Sheeran has flirted with Metal. One of his friends is Korn frontman Brian 'Head' Welch. In 2013 he joked during an MTV appearance that he was working on a Rap-Metal album. In 2015 he took part in a skit on The Tonight Show Starring Jimmy Fallon that saw him perform acoustic covers of Heavy metal songs and advertise a fake album titled Death Sheeran.
Sheeran wouldn't be the first artist to switch from Easy Listening to Hard Rock. In 2005 crooner Paul Anka released an album titled Rock Swings which saw him perform such rock standards as Bon Jovi's It's My Life, Oasis' Wonderwall and Nirvana's Smells Like Teen Spirit. Under the guise of Richard Cheese, singer Mark Jonathan Davis regularly performs covers of Metal tunes in the style of a Vegas lounge singer. The late Sir Christopher Lee even released several Heavy Metal albums while in his nineties.
While Metal may be a bit of a stretch for Sheeran, the singer has expanded his repertoire to take in a variety of genres, including rock, rap and reggae. His most recent single, Bad Habits, saw him experiment with dance music. That track became Sheeran's 10th UK number one and is expected to be included on his upcoming fifth studio album, which Sheeran claims will feature collaborations with Kylie Minogue and Jimmy Barnes.