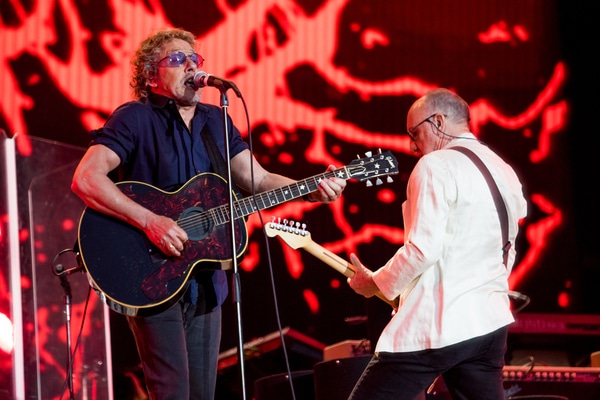 The Who have teased further celebrations of the 50th anniversary of their classic 1971 album Who's Next by sharing an unearthed live clip.
The album actually turned 50 on Saturday, August 14th, but the milestone wasn't acknowledged until Tuesday, August 17th when the band shared the clip.
The clip is taken from a September 30th, 2000 show at Cleveland, Ohio's Gund Arena. It features the band performing Getting in Tune, a song from Who's Next. Singer Roger Daltrey, guitarist Pete Townshend and bassist John Entwistle are all on top form in the clip. As a bonus for fans, the clip concludes with Townshend delivering an acoustic version of his solo track Sheraton Gibson.
The Who have teased more 50th anniversary celebrations to come in the next 10 days.
In a Twitter post the band promised they would be "Celebrating 50 years of Who's Next until 27 August." No details of what might be in store for fans in the coming days have yet been released.
Celebrating 50 years of Who's Next until 27 August, here's 'Getting In Tune' from Cleveland, 2000 plus a nice little bonus for your Clevelanders at the end. https://t.co/rox1HBoLHT

— The Who (@TheWho) August 17, 2021
Speculation has been mounting among Who fans that the band might announce a reissue of Who's Next.
Earlier this year The Who released a deluxe edition of their 1967 album The Who Sell Out. That edition boasted a whopping 112 tracks.
The Who's fifth studio album, Who's Next grew out of aborted plans for Lifehouse, a rock opera followup to the band's previous album Tommy. Removing what would have been connecting story elements, eight tracks were taken from Lifehouse with the addition of one new track, My Wife. Influenced by the growing Prog Rock movement of the time, the album saw the band lean heavily on synthesisers as they embraced a more operatic sound than their earlier albums. Two singles – Won't Get Fooled Again and Baba O'Riley – have become rock classics.
Released on August 14th, 1971, Who's Next was an instant critical and commercial success. It's now widely considered the band's finest album.
Amazing Journey: The Story of The Who, a career-spanning documentary on the group, was recently made available on streaming service The Coda Collection. The doc tells the story of the band from their origins to their present day endeavours.
"It's not easy to capture in film the power and energy of any rock band, especially the four characters that made up the Who, the brilliance of Pete Townshend's music, and the magic that happened between Pete, John, Keith and myself," Roger Daltrey said in a statement. "But Who fans tell me Amazing Journey does just that. From the moment that Keith joined us in the Railway Hotel back in 1964, it was like a bottle of champagne being uncorked. We just clicked. And here we are, all these years later — we've lost our dear bandmates Keith and John, and Pete and I continue to play together and carry this story forward. Thanks to Coda for putting this show up, and enjoy this film about our journey. I'm still living it!"