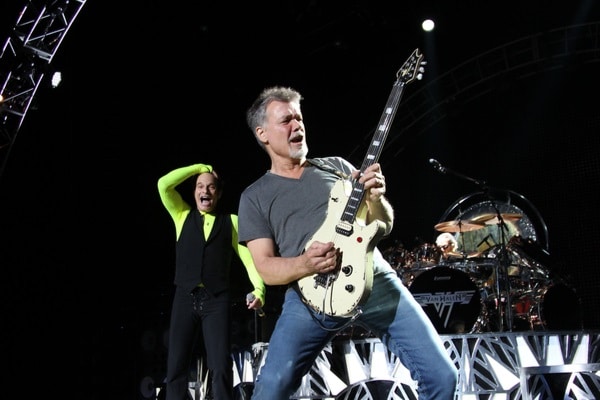 Would you like to listen to the article instead of reading it?
The guitar that was used by Eddie Van Halen on the music video for 'Hot For Teacher', has sold for just shy of $4 million at an auction.
The guitar which was a custom made Kramer was expected to sell for between two and three million dollars, with a $1.8 million minimum bid.
Sotheby's who ran the auction, have stated that this guitar was custom made by Paul Unkert of Kramer Guitars for Eddie Van Halen, to suit his evolving guitar technique.
This guitar also includes a signed autograph from Eddie Van Halen, its original case and Warner Brothers tags, along with the strait jacket and gloves worn by Van Halen in the music video.
The guitar also includes a provinence letter written by Unkert.
Having served as one of his primary guitars in 1983 and 1984, Eddie Van Halen gifted this instruement to the band's retiring drum tech Gregg Emerson in 1990. Neal's Music later acquired the guitar from Emerson's nephew, before selling it to its current owner.
In the letter, Paul Unkert spoke about the history of this guitar.
"The 'Hot For Teacher' Van Halen [guitar] was built by me at the Kramer Green Grove Road Plant in Neptune, NJ around 1982-1985/ #CO176. Look for 'Unk' stamps on Neck and Body. It was my last project for Ed and Kramer". 
"my last project"
'Hot For Teacher' was released by Van Halen in 1984 and was met with a tidal wave of critcism, with the Parents Music Resource Center calling for the track to be removed from radio and television.
The PMRC objected to the track's sexually suggestive lyrics, referring to a student having a relationship with a teacher, along with the video which shows a female teacher stripping, among other issues.
Eddie Van Halen passed away from cancer in 2020. Queen guitarist Brian May paid a special tribute to the rock last Summer.