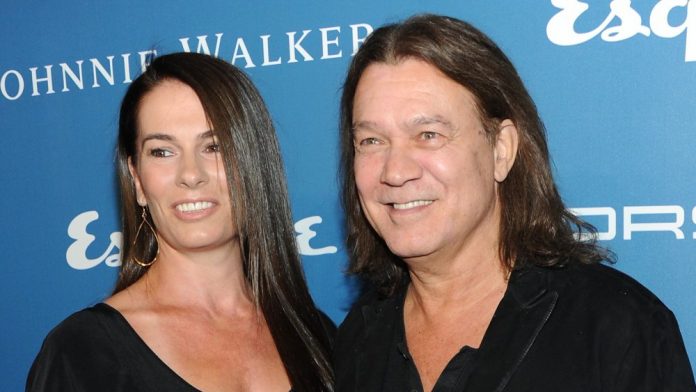 Legendary guitarist Eddie Van Halen passed away earlier this week after a long battle with throat cancer. His wife, Janie Liszewski has posted a moving tribute to her late husband on Instagram. Van Halen and Liszewski were married in 2009, in Studio City, California.
Liszewski calls Eddie Van Halen "my husband, my love, my Peep ."
"My heart and soul have been shattered into a million pieces. I never knew it was possible to cry so many tears or feel such incredible sadness".
"Our journey together has not always been an easy one but in the end and always we have a connection and love that will always be
"Saying goodbye is the hardest thing I have ever had to do so instead I say so long, I will see you again soon in a place with no pain or sorrow."
Eddie Van Halen was a guitar virtuoso. In the 70s and 80s, the band, Van Halen became a household name in rock music and influenced many rock and metal bands. Eddie Van Halen had a unique way of playing guitar.
Eddie Van Halen developed a rapid technique with a plethora of self-taught two handed tapping, hammer ons, pull offs and effects that sounded like animals and machinery. With this distinct guitar playing, the showmanship of different lead singers in David Lee Roth and later Sammy Hagar, Van Halen cemented themselves as one of the best rock acts ever.
The band had many hits such as 'Panama', 'Jump', 'Runnin' With The Devil' and 'Hot For Teacher'.
Eddie Van Halen's son from his marriage with Valerie Bertinelli, Wolfgang, posted the news of his father's death on Tuesday evening.
"I can't believe I'm having to write this, but my father, Edward Lodewijk Van Halen, has lost his long and arduous battle with cancer this morning,"
"He was the best father I could ever ask for. Every moment I've shared with him on and off stage was a gift. My heart is broken and I don't think I'll ever fully recover from this loss. I love you so much, Pop."
Tributes for the late guitarist have poured in from everyone in the music and entertainment world. In an interview with The New York Times, Metallica guitarist, Kirk Hammett revealed that he was told "if you want to say goodbye to Eddie Van Halen, now is the time." With Metallica touring and then the subsequent pandemic, Hammett never got the chance to say goodbye.
Hammett paid tribute to the late Van Halen in the interview and said "To me, he was like Tesla or Louis Pasteur or Ray Kurzweil. He might not have been working with circuits or engines or whatnot. He was working with musical notes and guitar strings and bridges and amplifiers."
Hammett also revealed that Van Halen were instrumental in getting Metallica on the Monsters of Rock bill in 1988.
Other musicians such as Gene Simmons, Billy Idol, Lenny Kravitz and former band members, David Lee Roth and Sammy Hagar have all posted tributes to Eddie Van Halen.