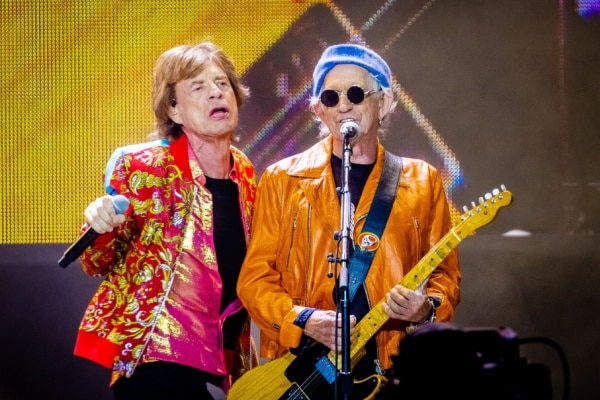 Would you like to listen to the article instead of reading it?
Two statues of Rolling Stones pair Mick Jagger and Keith Richards have been unveiled in their local town of Dartford.
The pairs' ties with with the town date as far back as the 1960s, where they met as teenagers on the platform of Dartford's train station, before going on to form the band in 1962.
"you do not get more influential than the Rolling Stones"
Both sculptors were designed by artist Amy Goodman, who is also an avid fan of the group. Goodman had previously designed famous historical figures like Sir Stirling Moss, and Florence Nightingale, along with a Gurkha Memorial.
Made out of bronze, the statues were also sanctioned by the local council of Dartford, aimed at capturing the same energy and intensity that Jagger & Richards bring to their live performances with the Stones.
The design shows Keith Richards leaning back, playing his 'Micawber' Telecaster, which was gifted to him by his friend Eric Clapton, with frontman Mick Jagger mid-way through one of his songs in one of his trademark struts up and down the stage, wearing his skin-tight trousers.
Unveiled yesterday (August 8) at Dartford's One Bell Corner, Dartford's borough council leader Jeremy Kite spoke at the event.
"In terms of culture and music, you do not get much more influential than the Rolling Stones", he said. "Their music has changed the face of popular music and these lads from Dartford are now two of the most recognisable and loved people in the world".
Kite also added that the local community had a "a long-held desire" to acknowledge the Rolling Stones' connection to the town.
Check out the statues below.
Join us at One Bell Corner on Wednesday, August 9th at 12pm as we unveil two fantastic bronze statues of Dartford's very own Sir Mick Jagger and Keith Richards. (Picture: Russell Sach) pic.twitter.com/Tz8KIcOcgO

— We Love Dartford (@welovedartford) August 7, 2023
Earlier this Summer, the Rolling Stones also released their very own iced coffee kit, with the ingenious name of, 'Start Me Up'.
The release of this limited edition machine, sees the Rolling Stones join forces with coffee maker Keurig.