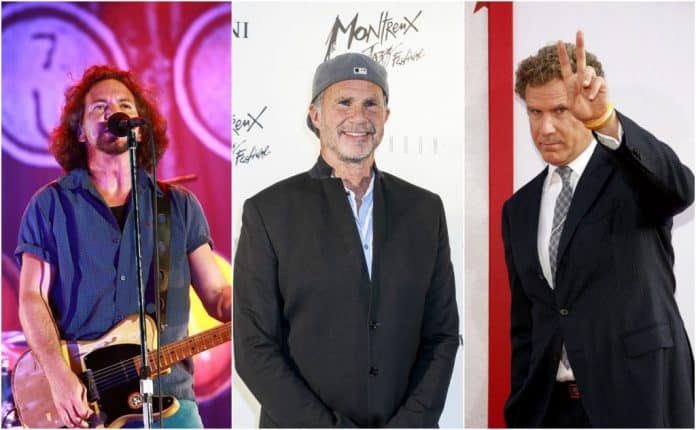 What a collab! Will Ferrell, Eddie Vedder and Chad Smith joined forces to perform a rendition of Depeches Mode's 'Personal Jesus'.
The magic occurred on Monday night at a charity concert 'Cancer For College' in Seattle. They were joined by Dave Matthews Band's Stefan Lessard and folk artist Brandi Carlie. They went under the name 'One Classy Night' to raise money for cancer survivors in need of scholarships. The event raised $300,000 for the charity.
Ferrell conducted a drawn-out mic check before bringing on 'local, homegrown kid' Eddie Vedder and the rest of the band. Check it out below:
Last year Chad Smith jokingly walked off stage when a fan shouted 'Will Ferrell' at him. Smith and Ferrells resemblance is well-known, with the two having previously performed on The Tonight Show in 2014 wearing the same clothes. Of course, they had a drum battle which raised almost $500K for their charities respectively.
Smith replied to the heckles with shouting 'SHUT UP!' in a very Will Ferrell Step Brothers way.
He went on: "Listen, are you a musician? You're a drummer? Why did you say that? Because you love me', Smith told the fan. 'You love me and go 'Oh Will Ferrell!' I'm not Will Ferrell, you idiot. Nah I'm just fucking with you. I don't give a shit, I think it's great! I'm f**king famous because of Will Ferrell. F**k that guy, right!"
Ferrell himself recently brought his George Bush impression back to life for SNL. He joked during his cold open: 'I know what you're thinking: What the heck is this handsome devil doing back in the Oval Office? Well, the truth is, this is just a set,' he said, in full Bush attire. 'I had it built in my basement in Texas so I could pretend to still be president sometimes.'