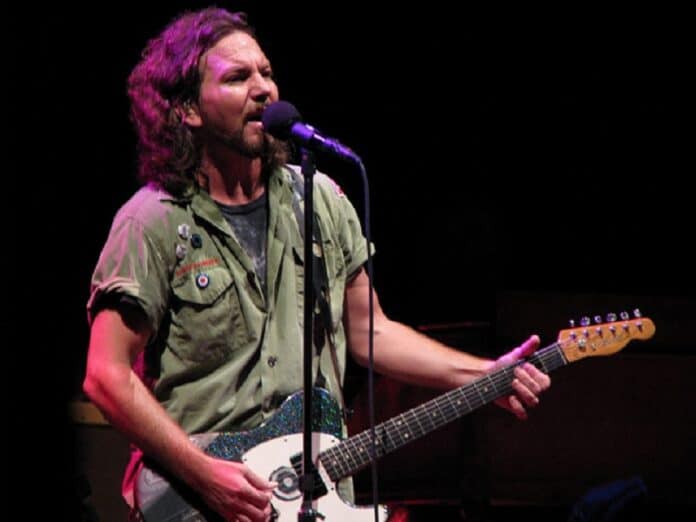 Eddie Vedder has performed two new songs at a charity event this week. The new tracks are called 'Matter of Time' and 'Say Hi'.
Vedder was performing at the 'Venture Into Cures' event. It was held in order to raise funds and awareness for people suffering with the rare condition epidermolysis bullosa (EB).
The benefit was hosted by Vedder and his wife, Jill. Speaking at the event, Jill said "Ed and I are incredibly grateful to everyone joining us for Venture Into Cures. Every day kids with EB and their families face astonishing challenges. This event will give people a glimpse into their world".
"EBRP's mission is to find a cure for EB, and this event will help bring us one step closer to making that mission a reality by adding momentum to the work being done".
People born with EB suffer from fragile skin. They also suffer from internal and external wounds and must undergo a rigorous bandage process every single day.
The two new songs from the Pearl Jam frontman are about EB. 'Matter of Time' has lyrics that deal with the condition – "I'll take the joy, I'll take the pain. We're just like you, we're all the same" sings Vedder. The video that accompanies the song is an animated one that sees children being able to shed their bandages.
'Say Hi' is a song that Vedder has performed over the years but has now updated and released. It was written for Eli Meyer, a child who suffers from EB. You can listen to the new songs and watch the event below.
This week, Eddie Vedder was announced as part of an incredible line up that will celebrate Alice in Chains. The Seattle icons are the receivers of the Founders award from the Seattle Museum of Pop Culture. The line up also includes Metallica, Korn, Taylor Hawkins, Billy Corgan, Tom Morello and many more. You can find more information about the event here.