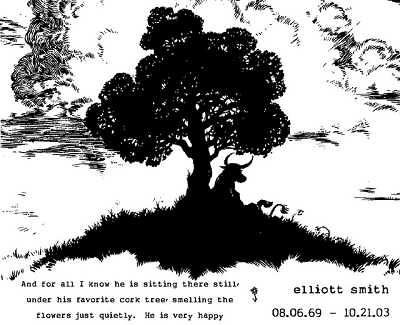 This month marks the 20th anniversary of American singer-songwriter Elliot Smith's debut album Roman Candle.
The album almost came about by chance. Smith had been in a loud grunge band named 'Heatmiser', after their shows were finished, Elliot retreated to his apartment and secretly recorded quiet introspective songs in his basement. His girlfriend encouraged him to send his tapes to Cavity Search Records, when owner Christopher Cooper heard the tracks he immediately requested the entire bulk of Smith's recordings. These songs would go on to form Roman Candle.
Elliot Smith played all the instuments on the album. His lyrics were often seen as depressing and downbeat, describing a drug-fueled life that he was trying to escape from. Smith said that he was always puzzled when people call his songs "sad," because playing them always made him happy.
References to Nick Drake are common, they both share the haunted loner image, singing in whispers of alienation. They both play their guitars with a defining sadness and vocally set the mood for a tortured soul, trying his best to overcome his demons.
Smith's most famous track from the album is the title tack 'Roman Candle'. In the BBC's retrospective review, James Skinner remarked:
"Smith tangibly seethes as he delivers the title-track's central lyric, painting a picture of domestic abuse that crops up throughout the remainder. It is a vivid, brave song with which to open an album (not least a career) and like many here, it's rendered all the more poignant by his tragic, untimely demise. But alongside this bleakness lies compassion, and its central salvo of unnamed tracks illustrates his gift for marrying the clearest, most beautiful melodies to darker subtexts."
Roman Candle is available to stream on Spotify below: