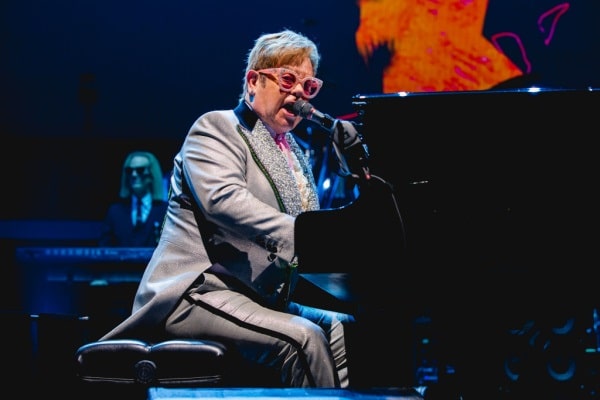 Would you like to listen to the article instead of reading it?
At his last ever UK show, Elton John treated his fans to a "special and emotional" performance of hit after hit at Glastonbury.
Having opened the show with 'Pinball Wizard' and 'The Bitch Is Back', Elton John told the crowd, "I never thought I would ever play Glastonbury and here I am".
This show is to mark Elton John's final ever UK gig, as he plans to retire after his 'Farewell Yellow Brick Road' Tour.
"very special and emtoional"
Halfway through his performance, an emotional Elton John also told the audience, "It's a very special and emotional night for me because it might be my last show ever in England, so I had better play well and I had better entertain you, you've been standing there so long and I really appreciate all the outfits and everything".
The singer also treated fans to live covers of 'Daniel', 'Goodbye Yellow Brick Road', 'Benny And The Jets', and 'I Guess That's Why They Call It The Blues'.
Along with a range of collaborators, Elton John performed many of his hits, including 'Tiny Dancer', 'Rocketman', 'I'm Still Standing', 'Your Song' among others.
'Tiny Dancer' also saw Elton perform with Killers frontman Brandon Flowers. The music legend was also joined by Gabriels' Jacob Lusk for a live rendition of 'Are You Ready For Love'.
US singer Stephen Sanchez joined Elton John on stage for 'Until I Found You', while his final guest Rina Sawayama performed 'Don't Go Breaking My Heart'.
"my friend"
Before closing the show out, Elton John paid a special tribute to his friend and late singer George Michael, with a moving performance of 'Don't Let The Sun Go Down'.
The track which was originally released by Elton John and Bernie Taupin in 1974, was re-released by Elton and Michael in 1991, reaching number one in the UK and US.
"This is a very special day today, I wondered how I was going to approach it", Elton told the audience, referring to what would have been Michael's 60th birthday.
"One of Britain's most fantastic singers and songwriters was George Michael", he continued. "He was my friend, he was an inspiration, and today would have been his 60th birthday, so I want to dedicate this song to his memory".
"All the music he left us with is so gorgeous. This is for you George".
Closing out the show with 'Rocketman', Elton John thanked his fans.
"I want to thank you all for dressing up in your costumes, your glasses and your outfits, it makes me feel so happy and so loved", he said.
"I also want to thank you for 52 years of amazing love and loyalty that you've shown me. It's been an incredible journey".
"I've had the best time, I will never forget you, you're in my head and my heart and my soul, you've been amazing", he added. "You've been an incredible crowd tonight. I wish you love and health and happiness".
Speaking ahead of his slot at the festival, Elton John promised his fans "a brand new show". More on this here.