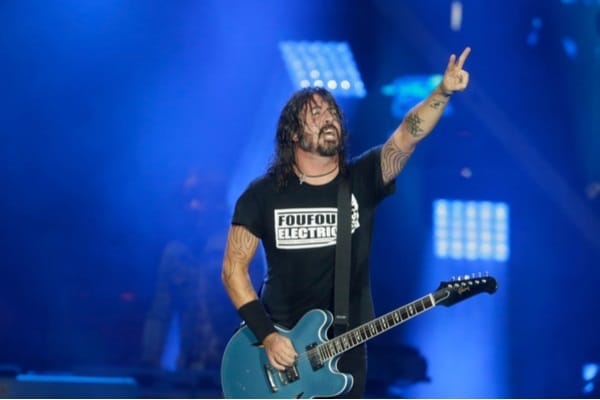 Would you like to listen to the article instead of reading it?
Over the weekend, Dave Grohl treated Glastonbury goers to a surprise set, as he joined Guns N'Roses on stage yesterday evening (June 26).
Ahead of this festival, rumours had been spreading that Grohl's band Foo Fighters were to perform at Glastonbury under the moniker 'The Churnups'.
Grohl had appeared to confirm this via Instagram earlier this month.
"Hey, it's been a while", the message read. "Now that we've returned from our first run of shows, I felt compelled to reach out and thank you all for being there for us".
"Every night, when I see you singing, it makes me sing harder. When I see you screaming, it makes me scream louder. When I see you your tears, it brings me to tears. And when I see your joy, it bring me joy. But, I see you… and it feels good to see you, churning up these emotions together".
"he insists on playing"
Grohl subsequently joined Guns N'Roses on stage at Glastonbury, having performed at the Worthy Farm venue alongside the Pretenders and Johnny Marr earlier in the day.
"Apparently there's a drunk guy backstage…he insists on playing", Pretenders lead singer Chrissie Hynde told the audience.
Hynde had earlier confirmed her band's performance at the festival, writing this message via Instagram.
"It's always been there for most of our lifetimes. There has never been a festival like it anywhere else", she said. More here.
Appearing on stage towards the end of the Guns N'Roses' set, Grohl performed a live cover of the track 'Paradise City'. Lead singer Axl Rose said, "because you can never have enough guitars".
Check out some of the reaction of this special performance below.
When telly is just so good you have to take a photo (Dave Grohl with Guns n Roses. pic.twitter.com/atm7GHR4VO

— CraftyCambrian-Artist👩‍🎨🏴󠁧󠁢󠁷󠁬󠁳󠁿 (@AwkwardAdaWitch) June 24, 2023
Dave Grohl joining Guns N Roses is everything #GunsNRoses #glastonbury2023

— It Started in LA (@ItStartedinLA) June 24, 2023
Dave Grohl's had some Glastonbury so far, FooFighters perform a surprise slot on Friday, he played the drums for Chrissie Hynde and the Pretenders and now rocks out with Guns & Roses. Wouldn't surprise me if he joins someone tomorrow on the legends spot #glastonbury2023 🤘🏻🎸

— ӄɛռռʏ🐔 (@themelvo) June 24, 2023
Earlier this month, Foo Fighters also announced plans for a much anticipated UK Tour, which will take place next year. Find out more here.