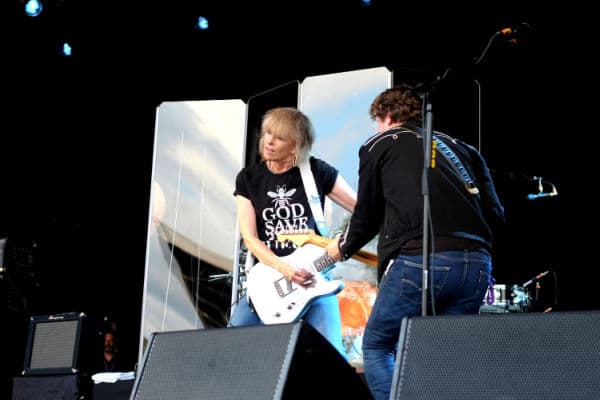 Would you like to listen to the article instead of reading it?
The Pretenders will perform a surprise set at this year's Glastonbury Festival, which kicks off today.
The band confirmed this news via their social media accounts, which will see them perform their set this Saturday (June 24) at 7.45pm.
This set marks the Pretenders' first appearance at the festival since 2017 (see footage below), having previously performed there in 1994.
They will also be supported by special guests and friends.
"most of our lifetimes"
New of the Pretenders' partcipation at Glastonbury was confirmed by their lead singer Chrissie Hynde.
"It's always been there for most of our lifetimes. There has never been a festival like it anywhere else", Hynde wrote in a caption shared online. See the post in full here.
The Pretenders also follow a long list of acts who have announced surprise sets at Glastonbury, including Franz Ferdinand, Lady Gaga, and The Libertines among others.
Speaking of Glastonbury, it was confirmed earlier this year that the Worthy Farm event would be co headlined by Guns N'Roses.
Other headline acts also include Manic Street Preachers, Royal Blood, Maneskin, Blondie and others.
Arctic Monkeys were also scheduled to headline the event, however that has been thrown into jeaporady as the band were forced to cancel their show in Dublin this week, after frontman Alex Turner was taken ill with an "acute laryngitis".