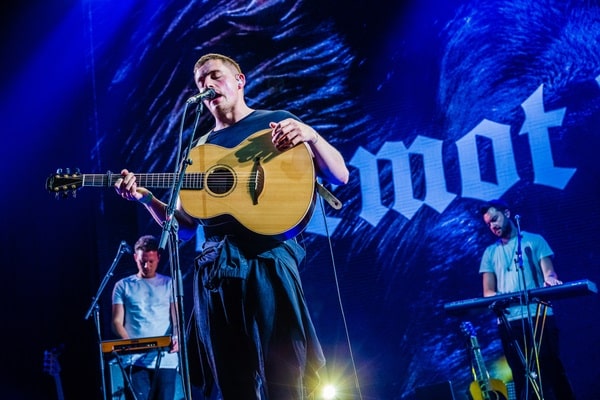 Would you like to listen to the article instead of reading it?
Dermot Kennedy has issued an apology to the Traveller Community over comments he made in a recent interview.
This comes after the Outnumbered singer spoke about the different kinds of Irish slang in a recent interview with Canadian music magazine Much earlier this month.
It was at this point that Kennedy referred to the word 'knackered' and its different connotations.
"If you call somebody a knacker that's really bad, really bad, because the knacker is – to the best of my knowledge – is like a horse in the yard that is like dying", Kennedy said.
"But it's like a classic thing… like if you were sitting at a table and someone took your food, you'd be like: 'Ah, ya knacker'", the singer added.
"should give an apology"
Kennedy's use of the word "knacker" came in for major scruitiny, particularly from the director of The Traveler Movement Bernard Joyce and human rights activist Rose Marie Maughan calling for the singer to apologise.
Joyce wrote, "[The 'K word'] has been used in hate speech towards the Traveller community to degrade and humiliate. It's completely unacceptable and gives offence to our community".
"Dermot Kennedy should give an apology recognising the hurt and pain this word has inflicted on our community with immediate effect".
Meanwhile, Rose Marie Maughan added, "Irish society has grown so much in terms of not using racist terms due to the impact they have on marginalised communities, yet the 'K term' is used daily regardless how many times Irish Travellers express our pain".
"He must now do the right thing and apologise to us, and in the future use his platform as an ally to us – calling for the end of the last accepted racism in Ireland".
https://twitter.com/Minceirbeoir/status/1670169120917028868?ref_src=twsrc%5Etfw%7Ctwcamp%5Etweetembed%7Ctwterm%5E1670169120917028868%7Ctwgr%5E84c11949174135991df4cb81c61f76fc0378397c%7Ctwcon%5Es1_&ref_url=https%3A%2F%2Fwww.classichits.ie%2Fnews%2Fshowbiz%2Fdermot-kennedy-apologises-to-traveller-community-over-offensive-comments%2F
Kennedy Apologises
Taking to Instagram, Dermot Kennedy apologised for any offence that his comments caused.
"I would like to apologise to the Irish Traveller Community for any offense caused when discussing Irish slang in a recent interview". the singer wrote.
"I was not referring to anyone specific, and I never mean to cause harm with the words I say, so I am sorry for any distress I caused".
Dermot Kennedy issues apology to Irish Traveller community over offence caused in Much interview pic.twitter.com/P6Xarz7dvN

— Matt Fox (@belfastcityfox) June 20, 2023
Back in May, Dermot Kennedy became the first artist to perform on the roof of the Guinness Storehouse. More on this here.