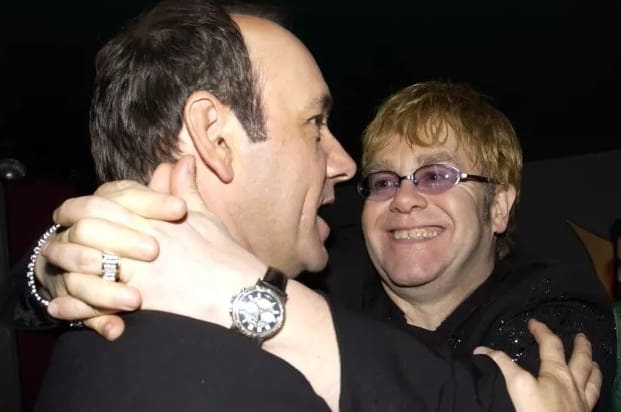 Would you like to listen to the article instead of reading it?
Elton John and his husband David Furnish have given evidence in the trial of Oscar-winning actor Kevin Spacey in London.
The 63-year-old Hollywood star is accused of offences, including sexual assault and indecent assault, against four men between 2001 and 2013, all of which he denies.
Filmmaker Furnish was first to give evidence via video link from Monaco before "Elton Hercules John" addressed those gathered in the courtroom.
The singer was asked about Spacey's attendance at his charity event, on the way to which Spacey is alleged to have sexually assaulted one of the complainants.
Furnish told Southwark Crown Court he had checked photographs taken of all the guests and Spacey had only attended that one year.
Elton John said Spacey stayed overnight at their Windsor home afterwards but said: "I can't remember him coming down after that."
Prosecutor Christine Agnew KC asked Sir Elton if he had a recollection of Spacey at the event.
Sir Elton said: "Yes, because he arrived in white tie.
"He was on a flight, he came on a private jet and he came straight to the ball."
Ms Agnew added: "Do you remember that at that ball he bought a Mini?"
After Sir Elton confirmed his recollection, she added: "And do you remember that that Mini was kept at your home for quite some time?"
The Rocket Man singer added: "That I don't remember but it's possible because it was his car and he was going somewhere else.
Asked if Spacey visited their home again after the ball, Sir Elton said: "The night that he attended the ball, he stayed overnight at our house."
Pressed again on whether he had returned after the event, he added: "I can't remember him coming after that, no."
Sir Elton said he did not remember the arrangements for the Mini being moved from his house.