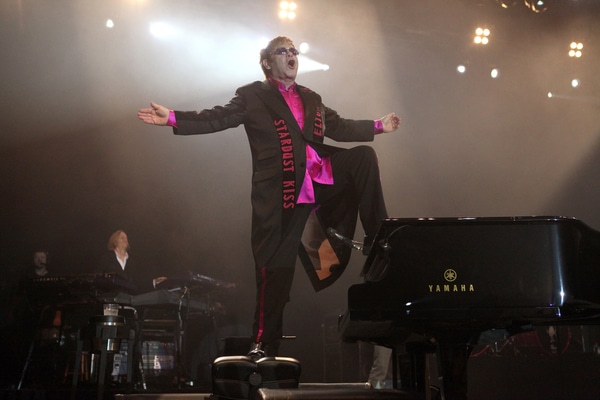 Elton John makes a valid point in the fight for UK artists to tour around Europe, visa free. In his article in the Guardian, John recalls the time he had a hot dog thrown at him while on stage, to explain why it was important to help younger artists break through.
It was reported last month that the British Government rejected a deal which would enable musicians and artists to travel around Europe visa free for up to 90 days, with many artists voicing their disapproval. Reports claim the reason Britain rejected this is because they did not want to offer the same deal to EU artists. However, Elton feels it is "absolutely vital" for new artists to tour Europe.
"Getting your music across to crowds from a different culture to your own, who don't necessarily speak the same language as you, just makes you a better musician," explained the experienced Elton. "As I discovered in the 60s, you can spend months in a rehearsal room painstakingly perfecting your craft and you won't learn as much about live performance as you do in half an hour trying to win over an unfamiliar audience. You have to have that visual contact with other human beings".
Elton feels touring Europe allows bands to absorb different influences, understand different crowds and meet new musicians. Playing to a different crowd, outside their comfort zones, helps a band grow and John thinks this helps them "not only play better, [but] you [also] write better songs as a result".
Elton recalls his experience of live shows
"In 1966, I went to Hamburg," wrote Elton. "I was the keyboard player in Bluesology, and we had a residency at the Top Ten Club, where the Beatles had famously cut their teeth. It was a real baptism of fire. We played on the Reeperbahn, five hours a night in among the brothels and sex shows, to audiences who hadn't come to see us. But it was still great: we played so much we didn't have any choice but to improve as a band".
Elton was certainly outside his comfort zone when he was booked as the support act to Sergio Mendes in Paris. The Rocketman singer said one audience member was so aggrieved at having his evening of bossa nova interrupted by the strains Elton's hit Your Song, that he threw his hotdog at him. "Clearly, the only way was up. I kept touring Europe and gradually built up an incredibly loyal audience".
Elton feels that if he was a keyboard player or solo artist just starting out now, he would unlikely get the chance to go to Hamburg, "or indeed have hotdogs thrown at me in Paris". UK artists now need visas to travel into Europe and John thinks this is an "administrative nightmare".
He acknowledges that this does not affect him in the same way as young artists because his tours can absorb these costs, and has people working for him "who can sort out the admin". However, it affects Elton's passion for new music as he feels new bands will not get the same experience needed to completely find themselves.
"During the Covid-19 pandemic, we've seen many other ways of promoting music to a global audience," writes Elton. "Artists have used social media and livestreams and have created pay-per-view online events. Some of these formats have been incredibly creative. But not one of them has come even remotely close to replicating the experience of going to a gig, and not one of them is going to have the kind of impact on an artist that touring does".
Elton reiterates that this article is not about him but more about "ensuring that emerging artists have the space to nurture their own talent and broaden and build their audiences". He feels we need a new generation of superstars and states this article is also about cult bands, performers, and artists who are "making stuff that is too experimental for mass appeal".
"In fact, if you hate every note I've recorded, because your tastes are edgier, weirder and more exploratory – if you think that the Parisian hotdog thrower had a good point – you need to support musicians' ability to tour," Elton declared. "Because, if Brexit prevents many new musicians from touring, the only artists who are going to have any meaningful kind of live career are big, august, mainstream artists like me. And, trust me, I don't want that any more than you do".