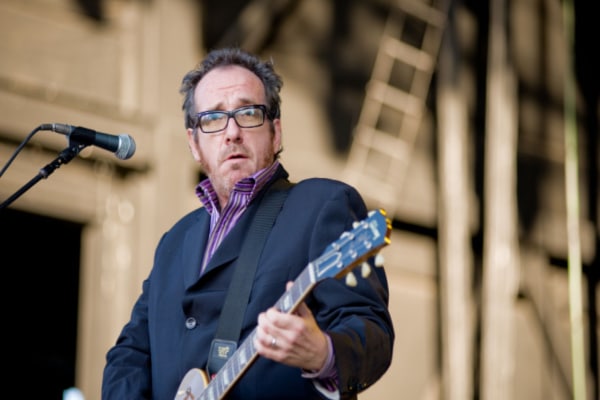 Following his criticism of the Party at the Palace performance, Elvis Costello has since locked horns with Rod Stewart on social media.
Earlier this month, Rod Stewart performed a number of his hits at the Buckingham Palace event. These included his 1983 track 'Baby Jane', before subsequently covering 'Sweet Caroline'.
Other stars who performed at the event also include Queen who consist of original band members Brian May and Roger Taylor, along with frontman Adam Lambert. More here.
Costello Felt "It was s****"
This performance drew subsequent criticism from Elvis Costello. The 'Oliver's Army' singer paused midway through a gig in Glasgow to share his thoughts on the line up.
Taking no prisoners in his comments, Costello told the audience, "The show was good, wasn't it? Wasn't it? No, it was shite".
He added, "I mean, I know you all love him and he's one of yours and everything, but Rod. What the f***? I must say, listen, we all have bad nights vocally, but for f****'s sake, Sweet f*****g Caroline? Are you f*****g kidding me? I mean I've been in show business 45 years so I do know a thing or two. How is it that nobody suggested Rod sing 'You Wear It Well?'".
Taking to social media since then, Costello insisted that his criticism was directed at the song choices for the event, as opposed to the performances themselves. He also blasted certain media outlets for misconstruing him.
"If you read my actual remark, it [was] about the wrong-headed idea of asking Sir Rod [to] pass up 'You Wear It Well' to lead a fucking singalong", he said.
Rod Responds
This led to a retaliation from Rod Stewart, who explained that his "voice was rough cos of Covid. I apologize, I though it better it to make an appearance rather than let everyone down so sorry".
In a subtle dig at Costello, the Maggie May singer also added, "By the way where's your hair gone mate?".
"you know I love you", was Costello's response, as he once again insisted that he was critical of the song choice, and not the performance itself.
He added, "As to gigs, I had a stinker the other night in Liverpool. They come and go, like hair, which I keep sewn in my hat".
Rod's wife Penny Lancaster also explained why her husband was singing 'Sweet Caroline' at the Jubilee event.
"The BBC said Rod we need you to sing 'Sweet Caroline', it's the Queen's favorite you have to do it so he didn't have much of a choice", she said.
Like many others, Penny Lancaster paid tribute to Queen Elizabeth as she celebrated 70 years on the throne. See here.