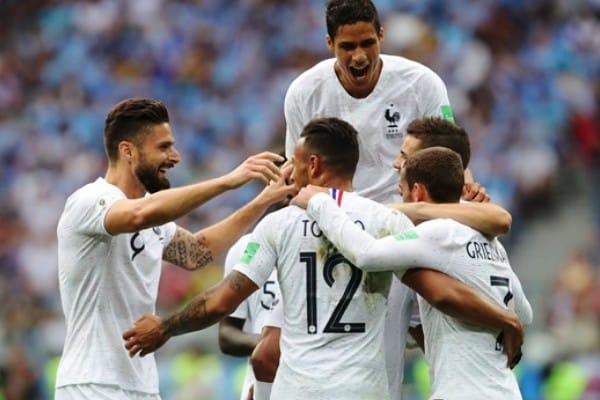 France are into the semi-finals of the World Cup for the first time since 2006 after seeing off Uruguay with the help of a terrible error by goalkeeper Fernando Muslera. In terms of excitement, there was little but the tie may still be remembered for the contrasting fates of the goalkeepers.
Les Bleus stopper Hugo Lloris produced a contender for save of the tournament while his opposite number made a mistake that was even more memorable.
Raphael Varane headed France into a first-half lead from a free-kick that came straight off the training field, with Antoine Griezmann delivering the perfect cross for the Real Madrid defender.
Uruguay, with injured striker Edinson Cavani failing to even make the bench, almost struck back immediately from a free-kick of their own, but Lloris produced a brilliant diving stop to deny Martin Caceres, before Diego Godin blasted the rebound over.
France were gifted the goal that made their win a certainty. Man of thje match Griezmann let fly from the edge of the area but Fernando Muslera misjudged the flight of the ball, flapped at the shot, and saw it loop slowly over the line.
Uruguay's run of four successive victories is over, as well as their hopes of reaching the final in Moscow. France march on, and they will face Brazil or Belgium in the semi-finals in St Petersburg on Tuesday.
Oscar Tabarez, Uruguay coach was proud of his side:
"For a country like Uruguay, you feel [bad about the defeat], with our history, of course you do. But now we need to move on. There are many countries who belong to the footballing elite who left this tournament much earlier.

"Only those that don't do anything, don't make mistakes. I told all my players after the match that they can be very proud, keep their heads high. I don't have anything bad to say against them. We all saw that it was not a very common goal, but Muslera has been a very important pillar in all our work up until now."
Man of the match Antoine Griezmann, on the styles of the two teams:
"Uruguay are a tough team, who remind me of my club side Atletico, where everybody works hard in attack and defence and I think it's a pleasure to watch because it's something that I see it day in day out. I love Uruguayan culture and Uruguayans so I have a lot of respect for them.

"I don't think that [France] have a style that is set. We observe what happens during the match and we have people who know how to manage the game, they know when to stop and when to move in attack. When I have the ball I try to take the game to where we want it to be."
#FridayFeeling 😃#FiersdetreBleus #WorldCup #URUFRA pic.twitter.com/xj95P15iTM

— French Team ⭐⭐ (@FrenchTeam) July 6, 2018
The @Budweiser #ManoftheMatch for #URUFRA was @FrenchTeam's @AntoGriezmann! #WorldCup pic.twitter.com/D3kjMOeq8q

— FIFA World Cup (@FIFAWorldCup) July 6, 2018
#FRA reach the semi-finals for the first time since 2006, and their sixth time in total 🤙#URUFRA // #WorldCup pic.twitter.com/KYhZW0E23J

— FIFA World Cup (@FIFAWorldCup) July 6, 2018