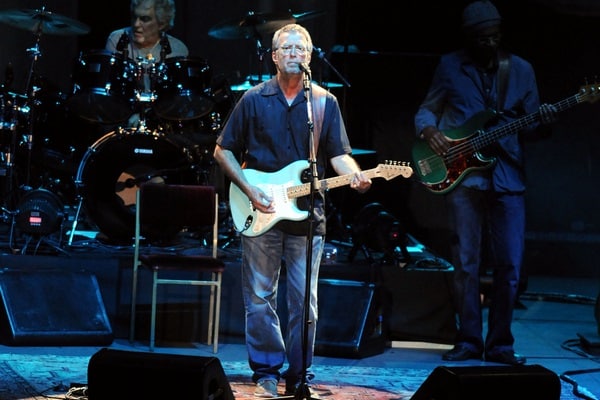 Eric Clapton performed live at New Orleans at a venue which requires proof of vaccination or a negative Covid test. This is a sharp u-turn on the stance he has taken against such measures since the pandemic began.
The singer has even written anti lockdown tracks with Van Morrison "Stand And Deliver", while he also released "This Has Gotta Stop" last month.
Back in July, Eric Clapton had said that he will not play at such venues with these measures in place. 
He said, "Following the PM's announcement on Monday the 19th of July 2021, I feel honour bound to make an announcement of my own: I wish to say that I will not perform on any stage where there is a discriminated audience present". 
Clapton u-turn
But now, Clapton appears to have had a slight change of heart, perfoming at the Smoothie King on Saturday (Setpember 18).
According to the website, the venue requires attendees to have received one dose of the vaccine or a negative Covid-19 test withing 72 hours of attending the show. You are also required to wear a mask if you are not eating or drinking.
See for yourselves below.
Eric Clapton has been very outspoken on his views on the Covid vaccine and lockdowns since the pandemic began.
Back in June, the rocker had siad that he had become "disenchanted and suspicious" with the British Government since the pandemic began.
He had also said that he had started to read up on "alternative data" about the pandemic via YouTube.
"The more I got into that, the more I realised I was distancing myself not only from the government but from the rest of the public too", Clapton told Oracle Films. 
More on this here. 
Previous to that, Clapton revealed that he suffered a "disastrous" reaction to getting the Covid vaccine himself.
"I took the first jab of AZ and straight away had severe reactions which lasted ten days. I recovered eventually and was told it would be twelve weeks before the second one", Clapton wrote in a letter to lockdown activist Robin Monotti Graziadei.
Clapton's views have also drawn criticism from Brian May. Find out what May said here. 
Last month also saw the release of a special edition deluxe version of Eric Clapton's 1970 self-titled debut solo album.