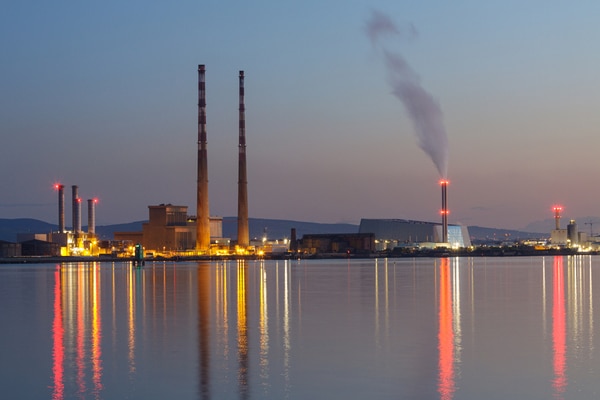 Dublin's iconic Poolbeg Chimneys are at risk, as the presence of sulphur corrodes into the very foundations on which they stand. Although councillors continue to call for the chimneys to be restored and repainted, the ESB warn of the pair's durability as hopes of saving the iconic landmarks continue.
The ESB revealed the presence of the corrosive element in a letter sent to Dublin City Council's chief planner, John O'Hara. Obtained under Freedom of Information by The Journal, the letter revealed the true state of the chimney's durability through a chemical analysis undertaken last year.
The iconic chimneys have been hugely popular over the years and are one of the first things tourists see sailing into the capital. Thanks to the pair's popularity, the ESB has committed to a maintenance programme ensuring the chimneys' medium to long-term stability. However, their future remains at risk as the exterior shell continues to crack and their lining becomes more contaminated.
In 2019, specialists recommended further investigation into the cracks but said it would only be possible by removing the brick lining of the chimneys. In its letter, the ESB said a considerable amount of weight lies upon the bricks, "which is dependent on the condition of the foundations".
Furthermore, the chimneys may be affected by a concrete deteriorating sulphate attack, due to a number of contributing factors. A presence of sulphur in soil at the foundations, chloride affecting the brickwork, and acid from aging chemicals from operational times, have formed a lethal concoction for ESB's ill-fated chimneys.
The ESB has said COVID-19 postponed "intrusive works" to the foundations which were due to be carried out last year. Plans are set to go ahead this year and discovering the presence of sulphur makes it "all the more important". According to the ESB, the internal brickwork will be removed if the foundations are in good condition. The brickwork can only then be sealed and repaired, with the chimneys then receiving a new coat of red and white paint.
However, the removal of brickwork "will be difficult due to the hazardous nature of the work", the ESB has warned. Speaking to The Journal, Labour councillor Dermot Lacey said the "chimneys have become iconic" and calls on the ESB for protection. Green Party councillor, Claire Byrne also expressed her concerns as she believes the Poolbeg chimneys "are undeniably an iconic part of the Dublin skyline".
It was reported last month that The Poolbeg chimneys in Sandymount could be encased in fibreglass, or concrete, for their preservation. The twin stacks, beloved by so many, were built in the 1970s as part of an electricity power station before they were decommissioned by the ESB more than a decade ago.