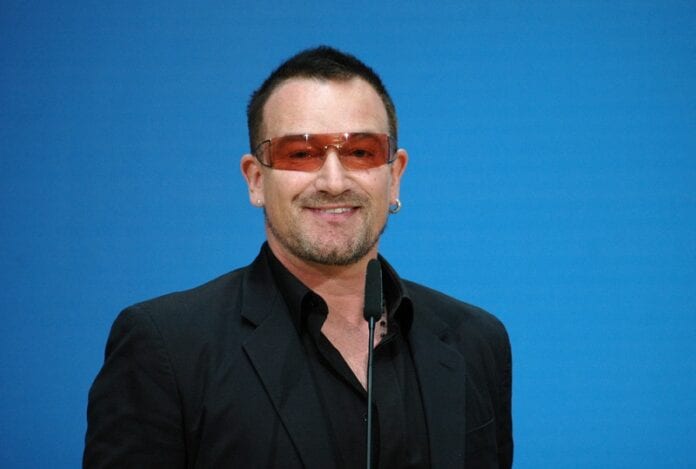 Bono's daughter, actress, Eve Hewson has revealed how her famous dad use to embarrass her on the school run.
Appearing on The Late Late show, Hewson opened up about her relationship with her dad. She was promoting her new Netflix series entitle 'Behind Her Eyes'.
"When he was home, he'd love to drive us to school because that was the time to spend with us and talk to us."
"But he would drive in his dressing gown and his shades and in the traffic on the Blackrock Road, he liked to put on Backstreet Boys and turn it up really loud and get out of the car and start dancing in the traffic and we were so humiliated."
She added, "That's the kind of dad he is. He's a fun time but he knows how to embarrass me, that's for sure."  
Eve Hewson recently revealed why she didn't follow Bono into the music industry. You can check out Radio Nova's report on it here.
Speaking about her new show, Hewson said "The show is a love triangle about a woman who starts an affair with her boss and then strikes up a friendship with his wife."
She also revealed that she didn't read the script before her audition with producers over Skype.
When asked about how she will deal with her new found fame from the Netflix show, she said "I don't know, I'm just going to wing it. Like I blagged my way into this job, I'm going to blag my way through this whole fame situation."
Meanwhile, U2 have announced a new CD and download package for their 'One Night Only' concert from Harlem in 2018. All details can be found on their website here.
The show was which aired on Sirius XM in America was described by Variety as:
"None of the dazzling special effects that have become a hallmark of their big-room shows; just lights, a stage, and one of the greatest live rock bands in history at full throttle, roaring through songs from their nearly 40-year catalogue."
This weekend marked the 20th anniversary of U2's hit song 'Beautiful Day' winning three awards at the Grammys.
It won, 'Record of the Year', 'Song of the Year' and 'Best Rock Performance by a Duo or Group with Vocal'.
The late 90s were a difficult time for Bono and U2. The band's elaborate PopMart tour disappointed many and record sales were poor in comparison to their earlier releases.
The release of 'Beautiful Day' and the album 'All That You Can't Leave Behind' sparked the band's renaissance in the early 2000s that was followed up with the release of 'How To Dismantle An Atomic Bomb' in 2004.