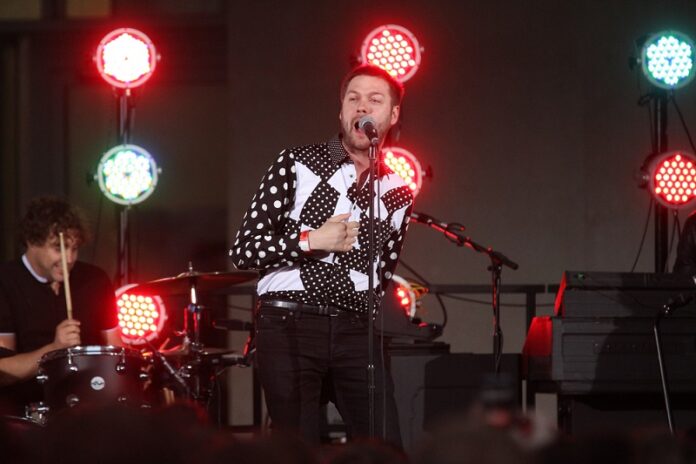 Ex-Kasabian frontman Tom Meighan and his girlfriend Vikki Ager have discussed the fight they had that led to him being kicked out of Kasabian.
In an interview with Cornwall Live, the pair discussed the fighting that took place between the two. Meighan was given 200 hours of unpaid work and an 18 month community order.
"We had too much to drink. I regret everything that happened that night – what I can remember of it. I don't condone it – it's horrific. I love my partner to pieces" said Meighan.
"I was at a boiling point in my life – I didn't know where things were heading."
The ex-Kasabian singer went on to add "I was drowning myself with drink because of my problems and things going on around me. We had a fight and I took the brunt for it. I was fully responsible for what happened but we love each other and we're getting over it".
"That was the lowest point of my life – I felt dead. I was a corpse walking around. I felt like I'd died on the day of the court case. I couldn't get any lower. The media made it a thing, but I have a conscience and I say to Vix how sorry I am about it."
Speaking about the fighting, Ager said "He apologises daily. He really does. A lot of people have arguments and ours got taken to an extreme level."
"I gave as good as I got. We were both fighting. We were really drunk and I don't normally drink. It was more of a squabble, it wasn't domestic violence".
She continued "Mental health played a massive part in it and a lack of support for mental health. Tom isn't that person and I don't think Tom was himself for a long time. He's not a violent person. He'd never done anything like that before"
The publication then asked if Vikki if she called the police. She then went on to describe the events that took place.
"No, my daughter phoned the police because we were having an argument and she didn't need to hear it. I've still got messages on my phone now where I was asking police not to prosecute him. I asked numerous times for them not to take it further. I said, this isn't Tom, he needs support. They said it had gone to the CPS (The Crown Prosecution Service)."
"Tom needed a wake-up call, but that was beyond it and they went to town on him" Ager said.
The pair live in Cornwall now as Meighan and his management scout potential studio locations as the ex-Kasabian singer plans to release a solo album next year.
He also discussed the break up with Kasabian before requesting the interview be stopped for a brief period.
"I can't say if the band will ever get back together again. It's raw – it's like a wounded animal, it's infected but the infection's dying out now. I spent my life with them … and it must be heart breaking for them as well to have seen me like that"