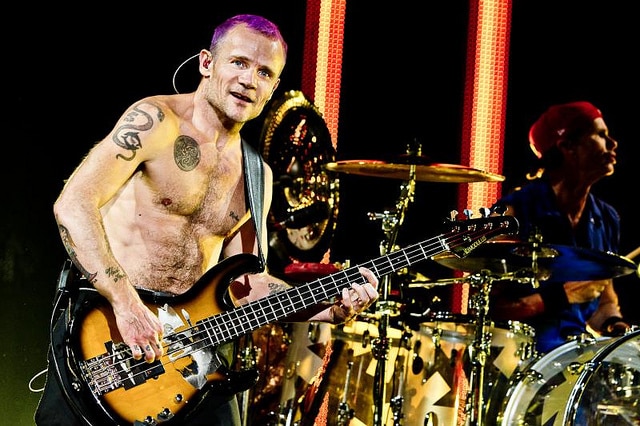 Red Hot Chili Peppers bassist Flea recently collaborated with Fender to create his signature bass.
Fender recreated Flea's cherished Shell Pink '61 Jazz Bass that he received from a fan. Flea used the bass to record Red Hot Chili Pepper's ninth studio album Stadium Arcadium back in 2009, as well as their newest album The Getaway which came out last month.
Flea also used the bass while he was playing with his side project Atoms For Peace, which includes Thom Yorke and Radiohead producer Nigel Goodrich.
Speaking about the bass in a new statement Flea said "It's truly the greatest bass I've ever played," before adding that "Fender embodies everything I love about music and individuality."
He continued by saying "It reflects the soul of rock, punk, R&B and funk. It's this bass that pushes me to give more each time I play. The Flea Jazz Bass is a true resurrection and possesses that wave of energy a bass should give you when it's in your hands."
A representative for Fender also spoke about their collaboration saying "Flea is a hugely influential and innovative musician, and is an icon of the modern bass. " You can watch a video down below of Flea showing off his bass.
Photo Credit: Ben Houdijk