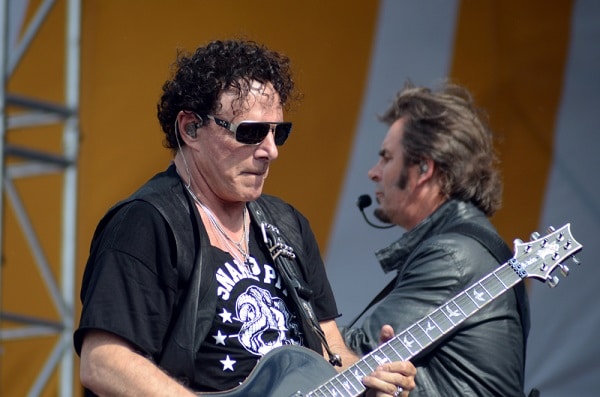 Journey's Neal Schon's iconic "Don't Stop Believin" guitar is to be auctioned. It is one of 112 guitarist being auctioned from Schon's personal collection.
This guitar is the same Gibsons Les Pauls guitar used to record the band's 1981 album Escape. It was also used to record that iconic track "Don't Stop Believin".
"These are guitars I've been collecting for a very long time", Schon said. "And it's time to let go of some of my collection to make room for new arrivals".
It is a 1977 Gibson Les Pauls Deluxe Black Solid Body. This guitar can also be heard on Who's Crying Now and Stone In Love. It was also used for the band's Escape tour (see below).
The bidding will begin at $200,000.
Oth guitars include, the 1969 Gibsons Les Pauls Goldtop that Schon used on Santana's third album "Santana III". Also included is a 1974 Guild F-50R Natural Acoustic. This instrument was used to write Patiently and Wheel In The Sky. While bidding for an extremely rare 1959 Les Pauls Standard Sunburst begins at $175,000.
Find out more about Schon's auction here.
Neal says he is still blown away by the reaction to the track. Here's a reminder of why "Don't Stop Believin" is so popular.
"Somebody should be able to play it"– Schon
"Everybody's like, 'Oh, that '59 Les Paul is the Holy Grail, how can you get rid of that?'", Schon said. "And I'm like, 'If I'm not going to play, I feel like somebody should be able to really play it, that's going to totally use it and appreciate it.' I don't feel good about having them all in cases, these guitars I'm never going to really play on albums or live or anything".
"They're not meant to sit there and look beautiful", Schon continued. "Somebody should be utilizing them, and I should allow somebody to, because there are not that many of them around. And, quite frankly, I'm happy with what I'm playing".
"I don't think there's any one guitar that defines me – I define myself. It comes from your fingers. It's in between your fingers and whatever amp you're plugging into and how you have that guitar set and your own picking style, how hard you pick, whether you use soft picks, hard picks. I mean, it all makes a big difference, man".
He also added, "Fifty-seven years now. That's how long I've been playing. It's crazy, man. I mean, I should be so much better. All these guitars have a story, a history".
Schon also confirmed back in January that his band Journey are to headline Lollapalooza this Summer. It kicks off at the end of this month.
Meanwhile, Journey's frontman Arnel Pineda said that he would relish a return of Steve Perry to the band. More on that story here.