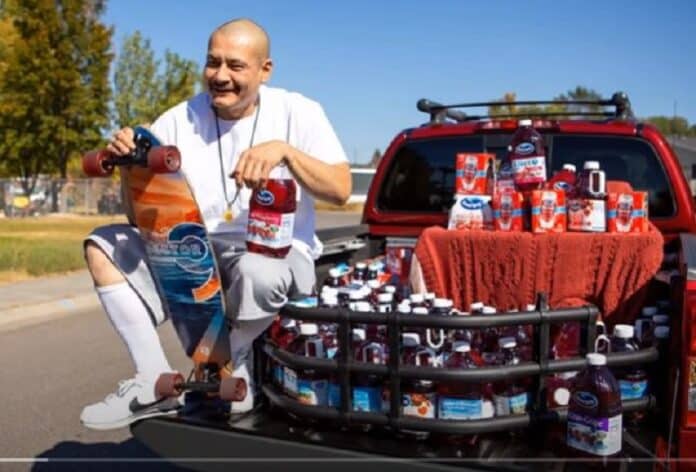 Nathan Apodaca, the Fleetwood Mac viral TikTok star is to feature in Joe Biden's inauguration celebration.
Last year, Apodaca who goes by the TikTok username @420doggface208 went viral on the platform because of the video he posted of him skating to Fleetwood Mac's hit 'Dreams' while drinking a bottle of Ocean Spray cranberry juice.
It has now been confirmed that Apodaca will take part in the virtual 'Parade Across America' livestream and according to TMZ, he has already filmed his video in which he is seen skating in his native Idaho.
Biden's team were uplifted when they saw his video and the reaction it garnered.
The team were impressed with Apodaca and said "how his feel-good video uplifted the world this past fall during social unrest and pandemic anxiety"
Stevie Nicks, Lindsey Buckingham and Mick Fleetwood all recreated the video themselves and were delighted with the viral TikTok star as streams of 'Dreams' went through the roof.
In an interview organised by the BBC, Mick Fleetwood told Apodaca "we owe you. It's such a celebration of everything. I've heard you talking about it, and it's so joyous and fun".
Since the video went viral, Apodaca's life has changed forever. Ocean Spray gifted him a brand new truck and his merchandise business has skyrocketed. He got engage to his girlfriend, Estela and the pair both recovered from their Covid-19 infection.
Many musicians including Bruce Springsteen, Foo Fighters, Justin Timberlake and many more have agreed to take part in the celebrations for Joe Biden's inauguration.
According to The Washington Post, the star studded line up has left Trump "extremely upset" and "furious" considering the acts that celebrated his inauguration were Toby Keith, Lee Greenwood, American rock band 3 Doors Down and a musical group called The Piano Guys.
It was also announced that 90s one hit wonder band The New Radicals are set to reunite for Biden's inauguration. You can check out Radio Nova's report on it here.