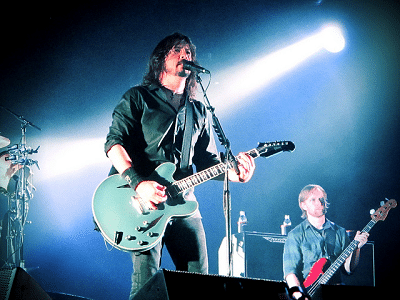 The American rockers have teased us all week, the most recent being an eight second clip, believed to be the first eight seconds of their new album.
On Wednesday, they told fans to expect "big news" from the group this coming Monday 11th August.
Then on Thursday the band posted a series of eight photos and GPS coordinates on Twitter, Instagram and Facebook. Fans had to collect them all and arrange them to create an image.
1 of 8. Can you find the rest? pic.twitter.com/FnoIX9y8MR

— Foo Fighters (@foofighters) August 6, 2014
Having collected all the pictures, fans on Reddit assembled an image believed to be their new album cover. Others have speculated that it's a promotional image for the band's upcoming new eight part series on HBO.
The Foo Fighters documented the making of their new studio album for HBO. Each episode takes place in a different city, it follows the group as they travel across America recording the new LP.
The eight images used for the online treasure hunt, were taken in eight different cities where the band recorded. When all the images were pieced together, they created a larger image, with a figure eight in the centre.
Now before i comment on the clip,
check out the eight second preview below.
Now you might be thinking this is just a wind-up, the lads from Foo Fighters are having us on, according to Consequence Of Sound, the man screaming is frontman Dave Grohl growling out words "All rise!".
Let's just hope Monday's announcement is a little more substantial, possibly the first single of the album, fingers crossed.