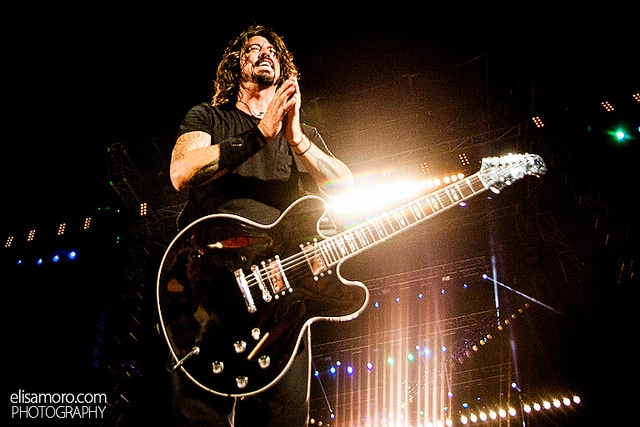 Foo Fighters frontman Dave Grohl has speculated that a second series of their very impressive 'Sonic Highways' television show could be filmed in the UK.
In the series, the American rockers documented the making of their new studio album also titled Sonic Highways.
In an interview with Billboard, Grohl speaks enthusiastically about wanting to experience studios like Abbey Road and chat with artists such as Bowie and Happy Mondays.
Grohl said: "There might be a season two. There are a lot of studios. If we went to somewhere like Abbey Road it'd be fun to interview someone like Paul McCartney or George Martin, that'd be kind of cool. Or go to say, Berlin, and interview someone like David Bowie or Iggy [Pop]. You could go to Manchester and interview the Happy Mondays, guys."
Who knows the lads might even pop over to Dublin's famous Windmill Lane Studios. Nicknamed the 'U2 Studio', albums such as Boy, War and The Joshua Tree have all been recorded at Windmill Lane.
Dave Grohl directed the miniseries 'Sonic Highways', each episode takes place in a different city, Chicago, Austin, Nashville, Los Angeles, Seattle, New Orleans, Washington D.C. and New York.
The documentary explores the musical significance of each city, its musical characters and chronicles the importance of each music studio they record in.
In each city the band record one song with a local legend. Featured in the series are, Fugazi, Paul Stanley (Kiss), Joe Walsh (The Eagles), Arcade Fire and President Obama.
Grohl even held off writing lyrics until the last day of each session, so he could soak in the experiences, interviews and personalities that became part of the process.
The Foo Fighters frontman says the series is a "love letter to the history of American music." Each episode explores the unique identity of the musicians and identifies how the city they were raised in influenced their musical sound.
'Sonic Highways' will be released on DVD and blu-ray on April 7th and will be available for pre-order from March 9th. It features extended interviews with Barack Obama, Dolly Parton, Chuck D, the Black Keys' singer Dan Auerbach, Joan Jett, Fugazi and Joe Walsh.
Watch the trailer for 'Sonic Highways' below.