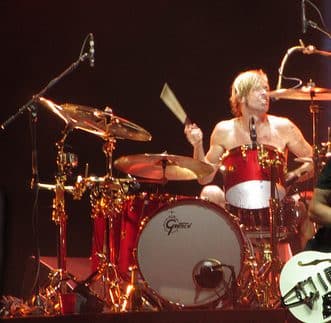 Foo Fighters' frontman Dave Grohl celebrated his birthday over the weekend, performing at the LA Forum with many notable rock guests.
Even though Dave's birthday is actually this Wednesday January 14th, the soon to be 46-year-old decided to celebrate early with an electric show.
Foo Fighters were joined on stage by Slash,Tenacious D's Jack White and Kyle Gass, Alice Cooper and David Lee Roth.
The impromptu concert cost punters €42, not only did fans get to watch numerous rock legends, the gig was for a great cause. A portion of the profits from the show were donated to three different charities: Rock School Scholarship Fund, MusiCares and Sweet Relief.
When Alice Copper came on the stage to play with the Foos, he performed the classic tracks 'School's Out' and 'I'm Eighteen'.
The American rockers also performed Led Zeppelin's 'Immigrant Song', with Slash on guitar and lead vocals by Jack White.
Other acts that played were Trombone Shorty, Perry Farrell, Zakk Wylde, Nick Oliveri, Paul Stanley and Joe Walsh.
It isn't the first time Grohl has performed a Led Zeppelin duet. He previously played 'Whole Lotta Love' with Prince.
Foo Fighters' 'Sonic Highways' tour lands on Irish shores in May. The group are playing Slane Castle with Hozier and Kaiser Chiefs. Dave Grohl and the lads previously played Slane in 2003, supporting the Red Hot Chili Peppers.
Foo Fighters play Slane Castle on May 30th 2015. Tickets are still available priced €79.50 inclusive of booking fee.
Foo Fighter setlist:
Detroit Rock City (KISS cover) (with Paul Stanley)
Do You Love Me (KISS cover) (with Paul Stanley)
All My Life
Rope
The Pretender
My Hero
Tie Your Mother Down (Queen cover) (with Slash and Tenacious D)
Immigrant Song (Led Zeppelin cover) (with Slash and Tenacious D)
Congregation
Walk
School's Out (Alice Cooper cover) (with Alice Cooper)
I'm Eighteen (Alice Cooper cover) (with Alice Cooper)
Cold Day in the Sun
Monkey Wrench
Two Headed Dog (Roky Erickson cover) (with Nick Oliveri)
Learn to Fly
White Limo
Arlandria
N.I.B. (Black Sabbath cover) (with Zakk Wylde)
Fairies Wear Boots (Black Sabbath cover) (with Zakk Wylde)
Times Like These
Outside
Mountain Song (Jane's Addiction cover) (with Perry Farrell)
Miss You (The Rolling Stones cover) (with Perry Farrell)
Something From Nothing
This Is a Call
Jam (with Trombone Shorty)
Best of You
Panama (Van Halen cover) (with David Lee Roth)
Ain't Talkin' 'bout Love (Van Halen cover) (with David Lee Roth)
Everlong
Let It Rock (Chuck Berry cover) (With Lemmy Kilmister, Slash and Zakk Wylde)