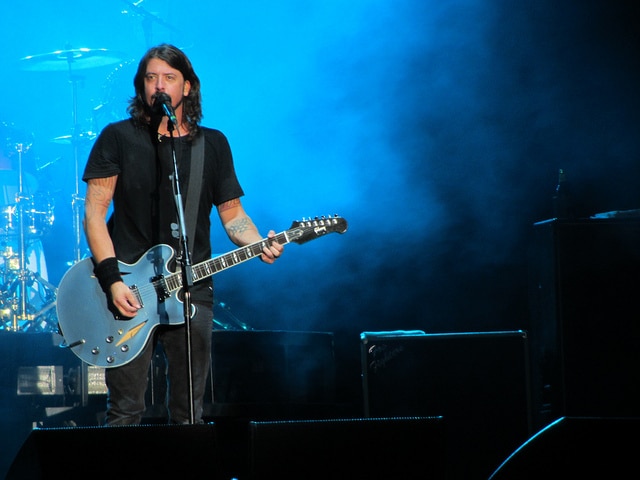 Dave Grohl has given the Glastonbury founder Michael Eavis some food for thought, he says Foo Fighters will headline the festival, as long as Oasis and Prince do too.
For the past few weeks, rumours have been flying around that the Foos will be headlining the pyramid stage next year.
Initially the front runners for Glasto 2015 were Fleetwood Mac and Queen, but both acts have been ruled out with Eavis stating they're "unavailable".
Glastonbury organiser Emily Eavis told NME: "We'd love to have the Foo Fighters back at Glastonbury and they haven't played since 1998 so its well overdue! We'll have to see…"
Speaking to NME, Dave Grohl said that they were certainly up for it. "I mean, it's an iconic festival. I just tell everyone if they need a band, we're pretty good. They should give us a call. See what happens."
"If Prince does it, and Oasis does it, you've got the Foo Fighters, how about that?"
"(Michael Eavis) hasn't called me. I mean, I don't want to give out my phone number on air, but I like playing shows! I've been to that festival before. It's pretty fun. We'll see what happens."
"We'll get a conference call happening, we can work this out. Imagine Prince and Oasis on the telephone, that would be amazing."
Talking about Oasis Grohl said: "In America Oasis sort of crept up on us, and it was one of the first times that an English band became massively enormous in a really long time. We ended up seeing them and playing shows with them and I got to know them a little bit. I love them as people, they're the sweetest people in the world. I know they have this sort of reputation of being brash and nasty, but I don't think they are."
"I've watched them live and there are not that many bands that can just stand there motionless and make 100,000 people go bananas, and that comes down to the songs. When your songs are that good, you've got something good going on. I miss them."
Foo Fighters released their new album Sonic Highways today November 7th. It's the group's eighth album and features guest appearances from the Eagles' Joe Walsh, Death Cab For Cutie's Ben Gibbard and Cheap Trick's Rick Nielsen.