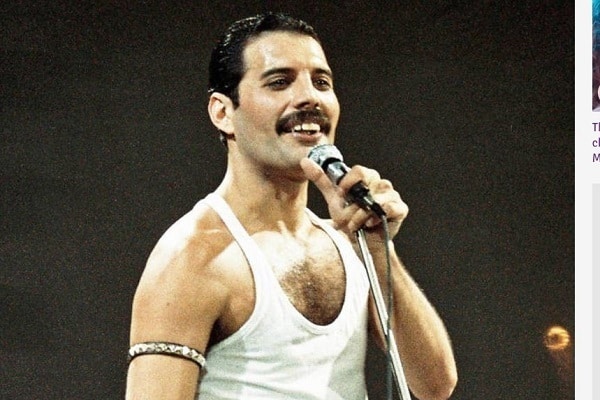 Would you like to listen to the article instead of reading it?
A set of "daring" hot pants which were worn by Freddie Mercury at a Queen concert, are being sold for £10,000.
The pants were worn by the charismatic Queen frontman during a concert at Birmingham in December 1980. Mercury wore them during an encore in order to "shock" the crowd.
Freddie Mercury passed away from AIDs-related complications in 1991.
"didn't leave much to the imagination"
These skin-tight black leather pants are to go under the hammer via Omega Auctions at Merseyside's Newton-le-Willows on April 25.
"They didn't leave much to the imagination, but no one complained", Jacky Gunn who is head of the Queen fan club said of the risqué items.
While Omega's Dan Hampson also remarked, "They typify his daring look".
Could you pull these off (or even pull them on?) like Freddie?

Stage-worn leather hotpants up for sale in our April Music Memorabilia auction with an estimate of £5,000 – £10,000.

View >> https://t.co/wPmLZemoMj pic.twitter.com/WE8gwjL8wX

— Omega Auctions (@OmegaAuctions) March 27, 2023
The flamboyant and daring dress sense was one of the many qualities which endeared Freddie Mercury to music fans worldwide.
Back in 1987, the iconic singer gave his final ever on screen interview, where he spoke about his prospering solo career, and working with legendary opera singer Montserrat Cabballe.
The pair released their collaborative single 'Barcelona'. Having performed the track at the welcoming of the Olympic Flag in 1988, they were due to perform the track at the 1992 Olympic Games in Madrid.
However, hopes of seeing the pair on stage for this occasion were dashed following Mercury's death a year earlier.
In the interview, Freddie spoke about working with Caballe, paying tribute to her.
"These last couple of weeks I've been working with this amazing woman, she's a big operatic star, her name is Montserrat Caballe, she comes from Barcelona", he said.
"And she just called up a few weeks ago and said she'd like to sing with me. So of course, I fell flat on the floor and thought 'My god'. But I've loved her for years". 
Find out what else Freddie said here.