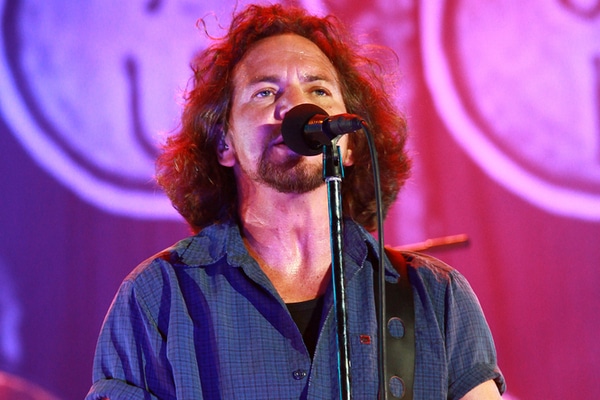 Eddie Vedder has unveiled details of his upcoming album, which features some big name guests.
Earthling, the former Pearl Jam frontman's first solo album in 11 years, will release on February 11th.
Having appeared on Elton John's track E-Ticket from John's 2021 album The Lockdown Sessions, Vedder has nabbed the British icon for a guest appearance on a track titled Picture.
Stevie Wonder and Ringo Starr also feature on the album, though Vedder has yet to reveal which songs they contribute to. Another guest spot is reserved for Vedder's late father, Edward Severson Jr.
Earthling's 13 song tracklist has been revealed. Here's how it goes:
01 Invincible
02 Power of Right
03 Long Way
04 Brother the Cloud
05 Fallout Today
06 The Dark
07 The Haves
08 Good and Evil
09 Rose of Jericho
10 Try
11 Picture [ft. Elton John]
12 Mrs. Mills
13 On My Way
The album sees Vedder backed by a band named The Earthlings. Their lineup features our own Glen Hansard on guitar and backing vocals, Red Hot Chili Peppers drummer Chad Smith, former RHCP guitarist and Pearl Jam touring member Josh Klinghoffer, Jane's Addiction bassist Chris Chaney and producer Andrew Wyatt. Vedder previously performed live with Klinghoffer and Smith at his Ohana Festival in California last September.
Vedder will be taking The Earthlings on a tour of the US to support the album's release in February. The tour kicks off in New York on February 3rd and wraps up in Seattle on the 23rd.
Following The Haves and Long Way, Vedder has released a third single from the album, titled Brother the Cloud, which he co-wrote with Wyatt, Klinghoffer and Smith.
Speculation has arisen that the song concerns Vedder's brother Chris, who was killed in a 2016 accident, and Soundgarden's Chris Cornell, who took his own life in 2017.
On the track's emotional chorus, Vedder sings "If I could wish, wish it away, I would bleed out my knees and pray. If I could give all that I have, to bring him back today."
You can listen to Brother the Cloud below.
Vedder can be heard on the soundtrack of the movie Flag Day, which opens in Ireland on January 28th.
Directed by Sean Penn, the true story stars Penn as John Vogel, a notorious American criminal.
Vedder features on 10 tracks on the film's soundtrack, sharing the mic with his 17-year-old daughter Olivia on some of the tracks. Hansard also contributes to the film's soundtrack, which features a cover version of REM's Drive.
You can listen to the Flag Day soundtrack below.