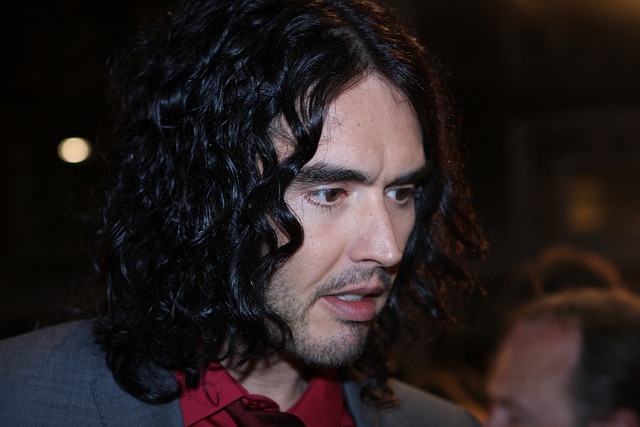 Noel Gallagher has been chatting about a wild night he had with Morrissey and comedian Russell Brand in Los Angeles.
Brand was a little dubious about the night out, not because he's a recovering addict, but because he claims that 'Morrissey is f**king mental', adding that he can't handle him for more than forty minutes.
Noel's upcoming album titled Chasing Yesterday, features a track on it inspired by the night out. The song 'Riverman' is about Moz playing the tune 'Pinball' by Brian Protheroe.
Speaking to The Quietus, Noel said: "I was in LA on holiday with Sara and the boys, and Russell [Brand] came to see us. And he goes, "What you doing tonight? I was with Morrissey last night, and he reckons we should go out for a drink." So Russell's texting him from my hotel room, saying, "It's on," and Morrissey's texting back, going [does pitch-perfect, drawling Morrissey impression] "Wonderful. Tell him to bring his credit card."
And we get to this gaff – this is like at seven in the evening – and I'm saying to Russell, "I'm up for it tonight, but I don't want to keep Sara up all night, we'll kick things in the head about two." And Russell snorts. "2 o'clock? We'll be out of here in 40 minutes! I can't handle Morrissey for more than 40 minutes: he's f**king mental!" So, we go in, and there he's sat, and I could write a book on that night.
Russell doesn't drink so me and Morrissey were roaring drunk. First thing, he got up and sort of shook my hand. I said, "Alright mate, how're you doing?" because I've met him at awards ceremonies, I've been on planes with him going to festivals. He'd just cancelled all the gigs in South America because he had whatever it was. So I go, "I thought you just cancelled a load of gigs, I thought you were at death's door." And he said [raises eyebrows, does the voice again] "Yet here I am".
"So it just descended, and he was f**king hilarious. He doesn't have a good word to say about anyone, anyone, anything. At one point he was asking [the voice again] "Who do we find funny?" and I was like, "I don't know? Micky Flanagan?" and he'd just go [rolls eyes back in head, puts fingertips of stretched-out on table, shouts exasperatedly] "Micky Flanagan!!!!". And I'd say, "What about Jack Dee?" and he'd just go [leans forward and shout] "He! Is! Not! FUNN-Y!" Russell was just so nervous, and Morrissey was going, "Come on, come on, can't we drink champagne and get pissed." It just went on for quite a while, and he was brilliant.
"And I have to tell you this story. I was saying to him, "So, when you were with The Smiths, the melodies that you wrote… well, you had all these words, but your way with melody is quite unique, it's not the blues and it's not pop, so did you have all these songs before you met Johnny?"
"And he says [preens] "I did". And I was like, "Did you?" He said, "I had them on cassette". And I said, "But you can't play the guitar" He said, "No, no, but I had a little drum kit". And I said, "What, a drum kit?" and he said, "Yes, yes, yes". And I said, "What did you have a drum kit for?" and he said, "Well, not many people know this, but Rice Crispies once asked me to do a jingle for them". So I said, "Really? Did you do it?" and he said, "No, no, no, I wouldn't play it." The he paused and leaned over, and said, "I wouldn't wear the leather." [erupts in laughter]
"And you know what: he never asked me a single f**king question about why I was in LA, what I was doing, Oasis splitting up, nothing. When you're with Morrissey, you're in the court of Morrissey. But he's a f**king uber-legend. What a top man."
Read the full interview about his forthcoming record here.