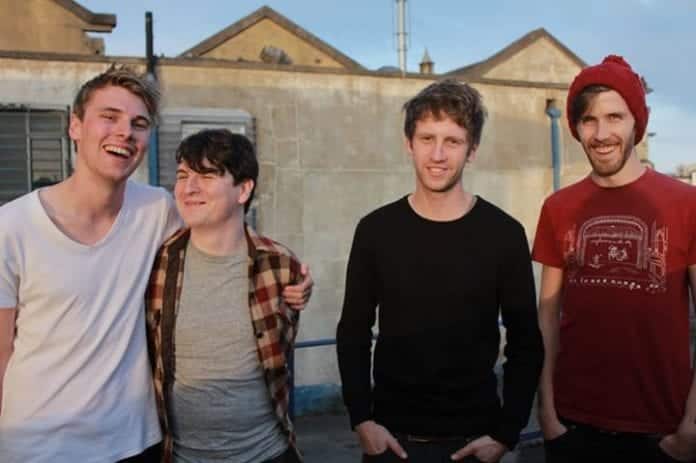 On Saturday night, in the heart of temple bar, a few hundred people crammed in to watch the most talked about band in Ireland take the stage at the button factory.
If you could sum up this group in one word it would be 'loud'. The group in question is named Girl Band, a four piece rock band from Dublin.
As the show begins, lights sporadically flicker, for what seemed a lot longer than 1 minute, frontman Dara Kiely covered in darkness stands statuesque in the centre of the stage, flanked by guitarists Alan Duggan and Daniel Fox, as drummer Adam Faulkner tries his best to demolish his drum set.
To describe Girl Band as a rock band is a lazy comparison. I heard influences from a variety of genres and the light show during their performance gave a further insight into the musical inspirations that make up the band's music.
So who do they sound like? It's the question everyone asks when a new group arrives. Speaking to the Irish Times, Duggan mentions the first time hearing The Fall as a "holy s**t" moment. "Suddenly, it was a case that we didn't have to sound like these other bands; we could sound like these older bands that no one knew about."
Other influences include Bad Brains, Swell Maps, James Chance and the Contortions, Neu, The Birthday Party, Ben Frost and a lot of minimal techno.
Their performance springs from moderate noise levels to an all encompassing wall of sound that surrounds you. Frontman Kiely goes from slightly whispering in to the microphone to full on Kurt Cobain screech.
The guitarists work in tandem with the strobe effects, this is where the rock band enters in to the techno arena. The trance inducing guitar playing, mixes with the strobe lighting to cause an almost hypnotic state, where the audience is pulled further and further into the group's presence.
Standing in the crowd, listening to their performance, i experienced elements of Nirvana, Bloc Party and Joy Division.
As the 50 minute set entered the last 15 minutes – the band came into their element, the enthusiastic fans at the front bopped their heads and crashed into each other more vigorously, as the guitars screeched like banshees, it was quite a conclusion to the show.
This is a band that need to be experienced live and hopefully they will be playing in Dublin again soon.