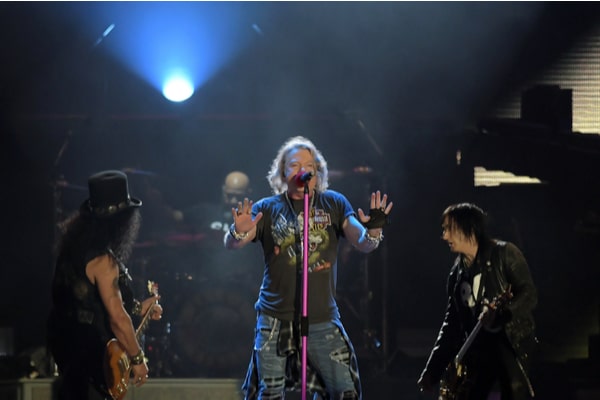 With many people viewing the possibility of the original G'N'R lineup ever sharing the stage again as a mere dream; Rose, McKagan, and Slash got back together 5 years ago for "a couple of shows" and never looked back. However, it was not just fans who had their doubts as Slash revealed in an interview with CNN that the original get-together plan was a lot shorter.
The three-year G'N'R Not in This Lifetime… tour began on April 1st, 2016, before wrapping up on November 2nd, 2019. Performing a total of 158 shows, and selling 5,371,891 tickets, GN'R grossed around €484.56 million in total. Following that tour, the band stayed together to complete a tour of North America which featured Wolfgang van Halen's band, Mammoth WVH, as direct support.
Fans were even treated to two new singles, Absurd, and Hard Skool, both culled from previously unreleased studio material dating as far back as the early 2000s. After a quarter of a century of tensions, people would have been forgiven for betting on this never happening. Even band members were surprised to see how quickly they got their G'N'R chemistry going again.
"When we got back together, that whole chemistry and that thing that makes what G'N'R is for me and Axl and Duff… it all just sort of came together" Slash, who, with Myles Kennedy and The Conspirators, will release the album, 4, next year.
"After that long a period of time, we'd sort of forgotten what that was like. Everybody got along great," the G'N'R guitarist noted. "That's actually why the tour has kept going, because initially it was just going to be a couple of shows."
G'N'R have currently more than 25 more shows to perform all over the world next year, which can be found here. Meanwhile, Slash, Myles Kennedy, and the Conspirators will embark on a headlining run in early 2022, with the guitar legend also dropping new song, Fill My World, this week (December 3rd).