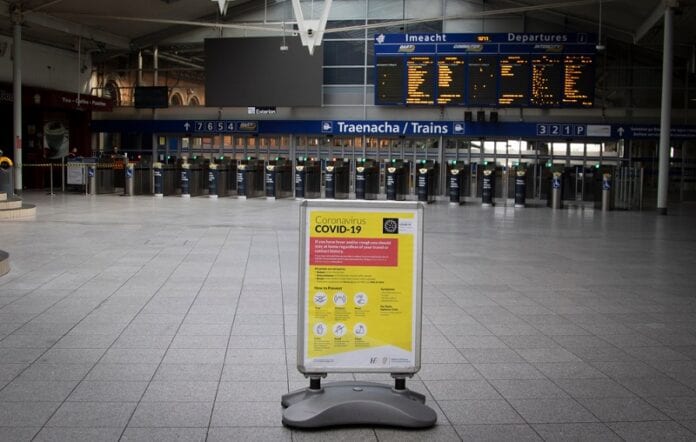 The Government hopes to scrap the 5km travel rule and let children return to outdoor sporting activities.
First reported in The Irish Examiner, Government sources have revealed that these issues are the top priority for the Government and they hope to remove these rules from April 5.
However, any easing of restrictions will be "heavily caveated" and will be based on NPHET's advice after they meet on Monday.
Case numbers will also be considered when the Government meets on Tuesday.
There is growing concern at the high case numbers being reported in recent days. 606 new cases were reported last night.
This is a trend that is also happening across Europe with Norway recently breaking their record daily case count this week and many other countries reporting worrying numbers.
Tánaiste Leo Varadkar told Social Democrats co-leader Róisín Shortall in the Dáil that lower figures may not be possible due to the more virulent B117 strain.
Mr. Varadkar said: "It perhaps demonstrates that getting down to low figures like 10, 50, or even 100 per day is not a prospect in the way it was last year because the virus has mutated and is more transmissible and deadly than the original wild strain.
"Despite the enormous efforts of the Irish people doing all the right things, we have got stuck around 500 or 600 cases per day and it is hard to see how we will get much lower than that."
Next week marks the beginning of Q2 and that is when Ireland's vaccine rollout is set to ramp up.
HSE boss Paul Reid has said he expects Ireland to receive more than 100,000 doses of the AstraZeneca vaccine next week in addition to Pfizer and Moderna deliveries.
EU Commission President Ursula von der Leyen outlined the EU's projections for deliveries earlier this week.
Johnson & Johnson is expected to deliver 55 million doses of its one-shot vaccine in Q2. Pfizer/BioNTech is also set to deliver 200 million doses in Q2, with Moderna delivering 35 million doses.
She confirmed that AstraZeneca is expected to deliver 70 million doses in Q2, which is significantly down on their original 180 million doses.
According to the latest figures from Ireland's Covid-19 Data Hub, a total of 709,348 vaccines have been administered.
These include 515,800 first doses while 193,548 people have received their second dose.
The figures indicate that around 10.4% of the population have received at least one vaccine while 3.9% have received both doses.
It was revealed earlier this morning that teachers at St.Gerard's College in Bray received vaccines from the Beacon Hospital. You can read Radio Nova's report on it here.