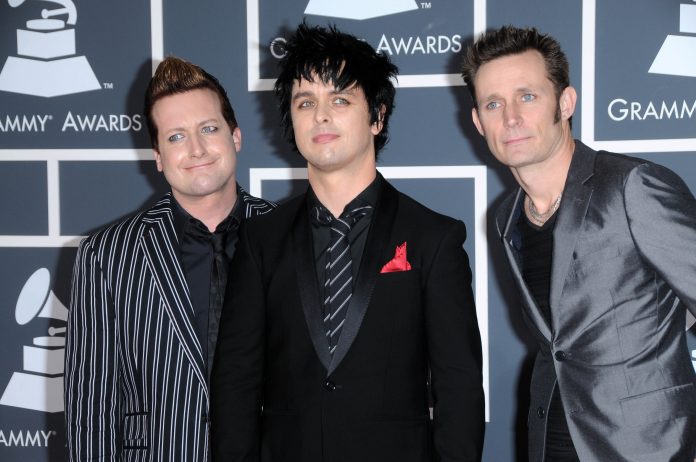 Green Day have announced that they are releasing a 25 year anniversary reissue of their album 'Insomniac'.
'Insomniac' was Green Day's fourth album. It was released on October 10th, 1995. It was the follow up to the legendary 'Dookie' album. 'Insomniac' garnered a lot of success for Green Day. The album peaked at number two in the billboard 200 chart. The singles from the album were 'Stuck With Me', 'Walking Contradiction' and 'Geek Stink Breath'.
The new reissue will be a double LP pressed onto a translucent orange vinyl. The first LP will be the reissue of 'Insomniac' and the second LP will consist of tracks from Green Day's Prague 1996 concert at Sportovni Hala. Watch footage of the tour here.
Green Day made a statement on their Instagram to announce the news.
"Well, well… where has the time gone… Insomniac turns a quarter-century old tomorrow!!"
"Celebrating by releasing a double LP pressed on translucent orange vinyl and includes the cover art printed on prismatic silver foil. LP 1 is a remastered version of the album. LP 2 includes live tracks from the legendary 1996 Prague show on the A Side along with an etching on the B Side."
The band also noted that due to the ongoing Covid-19 pandemic, shipping of the vinyl will not begin until early next year.
In further celebrations of the 25th anniversary, Green Day have also announced that they are releasing merch from the 1996 tour on their web store.
As well as merch, the band are also releasing a special edition print to mark 'Insomniac's' 25th birthday. The band announced on their website "We're partnering with punk rock & paintbrushes to sell a limited edition insomniac archival giclee print. Only 500 will be available at $100 each (20"x20" on 320 gsm cold press paper w/ deckled edges). Every print is signed and numbered by Winston Smith (the artist who designed the insomniac cover). All proceeds will benefit the alameda county community food bank."
The prints will be available to purchase on Monday 12th October at 8pm Irish time.
The track list for 'Insomniac' and the Prague LP can be found below.
In other Green Day news, it was announced that frontman Billie Joe Armstrong is to release his covers from his quarantine YouTube series. The new cover album is entitled ' No Fun Mondays'. Armstrong stayed connected with his fans by releasing new covers on a weekly basis including hits from Billy Bragg, The Bangles, John Lennon and many more. More information can be found here.
Despite the pandemic, Green Day have had a busy 2020. In February they released their thirteenth studio album. The band were due to hit the road on their 'Hella Mega Tour' with Weezer and Fallout Boy as support. The original Dublin date has been rescheduled for June 30th, 2021 at the R.D.S.
Track list for Insomniac 25th anniversary edition
Armatage Shanks
Brat
Stuck with Me
Geek Stink Breath
No Pride
Bab's Uvula Who
86
Panic Song
Stuart and the Ave
Brain Stew
Jaded
Westbound Sign
Tight Wad Hill
Walking Contradiction
Prague LP track list
Armatage Shanks
Brat
Geek Stink Breath
Stuck With Me
 Brain Stew
 Jaded
Walking Contradiction
86