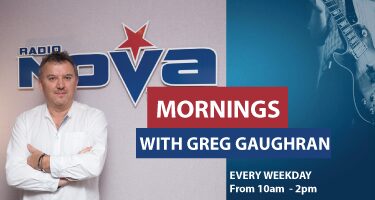 Greg Gaughran is a veteran of the radio business and can actually remember the Nova of the 80′s , as he was there!
Now he's part of the all new Radio Nova. A station that gives listeners in Dublin and the Commuter Belt something different and exciting to listen too song after song. Every Saturday morning he will be bringing you all you need to know about the latest gizmos and gadgets, along with seriously addictive music!
Greg has worked in the original Nova, Q102, (the 80′s version!), in the UK, and in the very beginning of 98fm. Greg has been working on East Coast FM since 2002, and combined duties there with a shift on Country Mix! Greg likes listening to music(!), Motorsports, cooking, and is partial to a nice glass of vino… (or two!).
He has two daughters and lives in Wicklow.
Greg Gaughran
Weekdays from 10am – 2pm
They all say that they' do it for you at work' but there's only one station that really gives you the songs you want to hear most. Mornings with Greg Gaughran
Toyz for Boyz
Weekdays from 8am – 10am
Want to play? Greg' got the latest playthings! By the way, it's not just for Boyz!