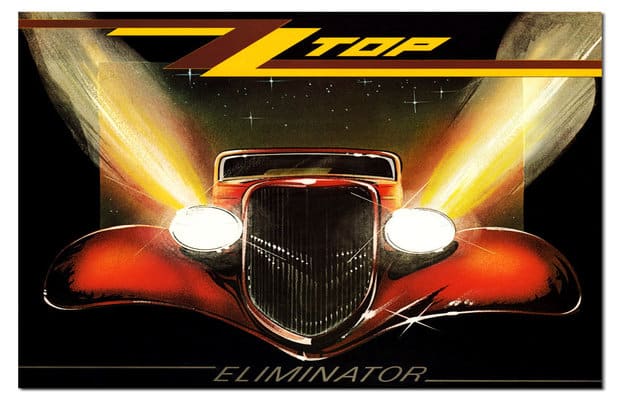 Eliminator is the eighth studio album by ZZ Top. It was released on March 23, 1983, by Warner Bros. Records. Recorded in Tennessee during 1982, the album was produced by the band's manager Bill Ham and peaked at the top of the charts worldwide. "Gimme All Your Lovin'", "Got Me Under Pressure", "Sharp Dressed Man", "TV Dinners", and "Legs" were released as singles. A Diamond award winner, Eliminator is ZZ Top's most successful release with sales of over 10 million copies in the United States.
The band wanted to expand on the synthesizer sound of their 1981 record El Loco. Influenced by pop music, Eliminator′s tracks were recorded with a combination of the synthesizer, drum machine, and sequencer. The album used music videos as successful promotional tools—the videos for "Gimme All Your Lovin'", "Sharp Dressed Man", and "Legs" all received regular rotation on MTV. A customized 1930s Ford coupe, depicted on the album cover, could be seen in the videos. Following Eliminator′s release, ZZ Top embarked on a worldwide concert tour.
Eliminator garnered widespread critical acclaim. Praise centered on its songwriting and use of synthesizers. Often considered ZZ Top's most popular release, the record has been featured in several publications' best albums lists. It ranked number 396 on Rolling Stone magazine's 500 Greatest Albums of All Time and was listed at number 39 in The 100 Greatest Albums of the 80's. In 2008, Eliminator was remastered and reissued, with the addition of bonus tracks and a DVD containing live performances
In 1976, Billy Gibbons convened with Buffalo Motor Cars in Paramount, California to build a customized 1933 Ford coupe. The car was built with a Corvette-style engine fabricated by the So-Cal Speed Shop. It was finished in 1983 and called the Eliminator. The car has become recognizable for its red finish and graphics, which can be seen in several of the band's music videos. The Eliminator has also made worldwide appearances in television, movies, auto shows, and charity events.
In 1979, ZZ Top reunited after a two-year break from touring and signed a new record deal, switching from London Records to Warner Bros. Frontman Billy Gibbons and bassist Dusty Hill also grew out chest-length beards. The beards, along with black sunglasses, have become distinctive aspects of the band's image. ZZ Top's sixth studio album Degüello was released in August 1979. The album went platinum and sold over a million units in the United States. El Loco (1981) experimented with the sounds of synthesizers. It went gold and initially sold over half a million copies. "Tube Snake Boogie" went to number four on the Hot Mainstream Rock Tracks chart.
In 1982, ZZ Top convened at Ardent Studios in Memphis, Tennessee. Ardent had become the group's premier recording studio since 1973. Production was handled by the band's manager Bill Ham, while Terry Manning was responsible for the engineering. Recording occurred in Studio A and included an "SpectraSonics by Auditronics" mixing console that was a permanent fixture until 1985. Both Billy Gibbons and Manning took charge of the studio sessions to make an album with various electronic instruments. Despite the credits on the album, Dusty Hill and Frank Beard did not attend most of the sessions.
Billy Gibbons used a Dean Z electric guitar that had DiMarzio Super Distortion humbuckers. Manning recalled that the guitar was "very resonant", always on the verge of feedback, and difficult to keep in tune. He would often edit Gibbons' guitar parts to eliminate extra noise. Gibbons used a Legend Rock 'n' Roll combo amplifier, a 50-watt hybrid amp with a single 12-inch Celestion speaker.[citation needed] According to Manning, an AKG C414 B-ULS condenser microphone captured the amp and was placed about five inches from the speaker cone, slightly off-axis.
Eliminator was released worldwide on March 23, 1983. The name of the album derives from a term for winning a drag race. The front cover is an illustration of the Eliminator coupe by Tom Hunnicutt. Three of Eliminator's five singles appeared in the top 10 on the Billboard Hot Mainstream Rock Tracks chart. "Gimme All Your Lovin'", released in April 1983, went to the number two position.
In 1983, ZZ Top made several music videos in California. "Gimme All Your Lovin'" was filmed at a gas station in Littlerock, while "Sharp Dressed Man" was filmed at night on the streets of Downtown Los Angeles. "Legs" took place at a restaurant and shoe salon in Newhall; Gibbons and Dusty Hill had custom Dean Z guitars made with authentic sheepskin covering the body and tuners, as well as a unit to make the guitars spin in a complete circle. With Tim Newman as director, the "Legs" video won an MTV Video Music Award for Best Group Video in 1984. The Eliminator coupe, along with three Playboy models, made an appearance in the videos.
Track listing
All songs written by Billy Gibbons, Dusty Hill and Frank Beard.
No.
Title
Length
1.
"Gimme All Your Lovin'"
3:59
2.
"Got Me Under Pressure"
4:00
3.
"Sharp Dressed Man"
4:13
4.
"I Need You Tonight"
6:14
5.
"I Got the Six"
2:52
6.
"Legs"
4:35
7.
"Thug"
4:17
8.
"TV Dinners"
3:50
9.
"Dirty Dog"
4:05
10.
"If I Could Only Flag Her Down"
3:40
11.
"Bad Girl"
3:16