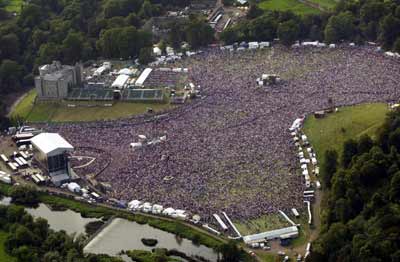 So here we are. Still one week left in the month of January, (interminably long isn't it?), and already thoughts turn to upcoming gigs.
Who will play Slane?, will Oxegen happen this year, who will be on the bill at Electric Picnic, you know, all the stuff you think about when it is a long gloomy  miserable month!. But already announced earlier this week is the news that the west is awake!.
By that, I mean that the Westport Festival of Music and Food is on this year. Details were announced in the very swanky L'Ecrivain restaurant on Tuesday. It happens over the weekend of June 28th and 29th in the 400 acre Westport House estate in Co Mayo. Very much a 'boutique festival', this year sees an interesting line-up headlined by Bryan Adams.
As I write this, we hear that Adams will have a full band, a change from him as recently he has taken the solo acoustic route. It is only when you see him live that you realise that his body of work is huge!. All killer, no filler, as the saying goes.
Also on the bill are over 30 Irish and International acts including Sinead O Connor, Kool and The Gang, and The Divine Comedy, Neil Hannon back with his band after collaborating with Thomas Walsh on the Duckworth Lewis Method albums.
Local Irish talent is also well catered for by the likes of The Hot Sprockets and Kila down to appear. If you fancy a laugh, there is plenty of comedy on offer from the likes of Karl Spain and Ardal O' Hanlon, and of course , lots of lovely food!. For mor details, go to Westportfestival.com.
Till the next time…….
Greg Gaughran, weekdays from 10am on radio Nova.