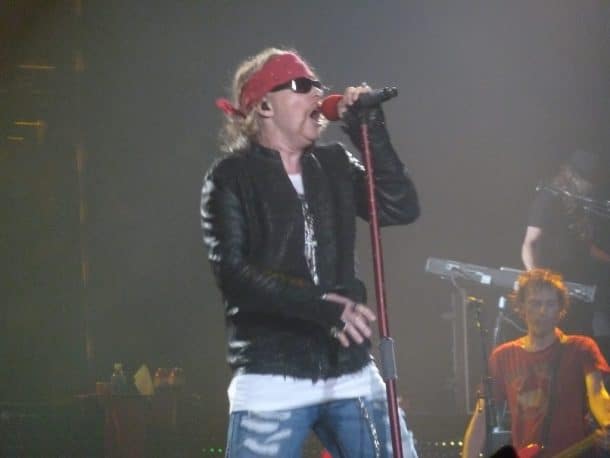 Guns N' Roses have been booed at their Melbourne concert today after they made the ultimate faux pas and greeted the crowd as "Sydney".
Fans at the Melbourne Cricket Club concert quickly took to twitter to mock the rockers.
It was also reported that the band were nearly an hour late taking to the stage. However the fans who had a little patience were treated with the combo of 'It's So Easy' and 'Mr Brownstone' as an opener accompanied by fireworks.
AC/DC guitarist Angus Young joined the core original members of, Axl Rose, Slash and Duff McKagan on stage for a hard-rock collaboration for the ages.
The Aussie rock great was returning the favour after Rose stepped in for singer Brian Johnson on some AC/DC dates last year.
Bassist Duff McKagan recently tweeted about a plane prank the band fell victim to at the hands of AC/DC's Young. They had just touched down in Australia ahead of a string of dates for their Not In this lifetime Tour. When they landed they were informed there would be a security check, and were asked to stay on the plane. The 'security check' turned out to be AC/DC guitarist Angus Young. "Told we had to stay on plane last night in Sydney; 'airport security' wanted to do a check," wrote Guns N' Roses bassist Duff McKagan. "We waited. It was Angus Young is an orange vest!"
Meanwhile, Guns N' Roses are set to headline Slane 2017 this summer. The band will return to the Co. Meath venue for the first time in 25 years. The hotly anticipated gig, which sold out in 24 hours, will take place on Saturday May 27, 2017.
Picture Credit: Carlos Varela