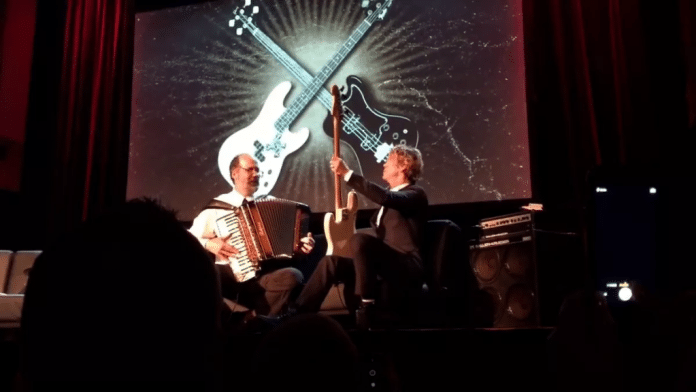 By Pat Courtenay
Today's must-see video is a Gunners/Nirvana collaboration. Well, not completely.
Guns N' Roses and Nirvana were at war in their early days: Gunners were global megastars and Nirvana's game-changing grunge rock was starting to make Axl and co look a bit dated. You may remember the unpleasantness at the 1992 MTV awards.
In the 21st century, however, it doesn't seem quite so important: Dave Grohl was a special guest on Guns N' Roses' world tour last year and famously lent Axl Rose his personal light-up throne back in 2016 after Axl broke his foot at a gig.
Now, guitarworld.com has gone back to May the year before in The Neptune Theatre in Seattle. Gunners' bassman Duff McKagan was hosting a release party for his second book called How To Be A Man (and other illusions) when onto the stage comes Nirvana's bass-player Krist Novoselic…but he's not carrying a bass.
Along with the neatly-trimmed beard, the tidy cut on what's left of the hair, not to mention the white shirt and tie, Nirvana's bass-player is also wearing a piano accordion. The two of them talked about Duff's book for a bit, and then it got interesting.
Duff sat down with his bass guitar beside the bespectacled Krist and, luckily for us, a fan video'd the performance. You can watch it below: